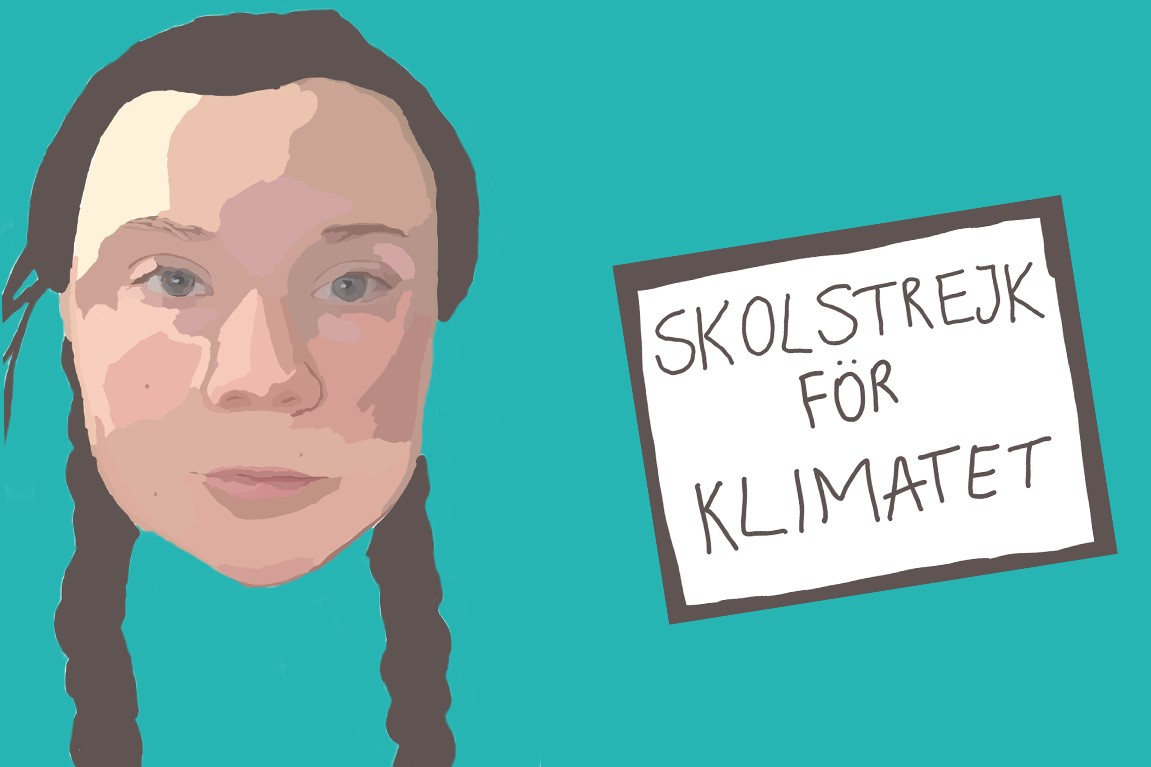 From proclaiming her fears about the future of our planet to passers-by of the Swedish Parliament to climate conferences across different continents. Greta Thunberg (18) has become known all over the world for holding politicians accountable for the lack of action against climate change. Covid has paused the worldwide focus on our environment for a while but with the Fridays for Future coming back and the UN climate conference in Glasgow going on, the climate issue has been put on the agenda of governments once again. Will Greta become the centre of the climate debate another time? 
'My name is Greta Thunberg and I want you to panic'. The then 16-year old environmental activist seeks the attention of politicians seated in the European Parliament in Strasbourg. According to her, policymakers do not listen to the younger generation that 'needs to clean up the mess adults have made'. Greta doesn't sugar-coat the reality. 'I am autistic, and I say things in the way they are', Greta opens up in an interview with The New York Times. 'One thing that I do have is the childlike and naïve way of seeing things. We tend to overthink things. Sometimes the simple answer is, it is not sustainable to live like this'.
A cardboard banner, like the ones being held up by screaming fans at concerts, characterised with the simple words 'Skolstrejk för klimatet' ('School Strike for the Climate') is the item associated with the young Swedish girl since she became known across different countries. The weekly strikes at the Swedish parliament were an attempt of changing something about the climate situation which Greta has been focussed on ever since she saw a documentary about huge amounts of rubbish in our oceans. One of the manifestations of the Asperger's Syndrome Greta was diagnosed with is getting oneself completely immersed in only one or two topics. The girl lacks no dedication to the subject causing her to become the icon of youngsters taking the future into their own hands.
Bullies
However, comments on her actions are always lurking around the corner. Twitter seems to be a good platform for people with ideas contradicting Greta's. One of its former users, Donald Trump, – Twitter suspended his account – did not take the climate activist's fears and threats seriously. 'So ridiculous,' he typed in a tweet, 'Greta must work on her Anger Management problem, then go to a good old fashioned movie with a friend! Chill Greta, Chill!' The loss of the 2020 elections seemed the perfect moment for Greta to pay the old man back. 'So ridiculous. Donald must work on his Anger Management problem, then go to a good old fashioned movie with a friend! Chill Donald, Chill!' the tweet sounded.
So ridiculous. Donald must work on his Anger Management problem, then go to a good old fashioned movie with a friend! Chill Donald, Chill! https://t.co/4RNVBqRYBA

— Greta Thunberg (@GretaThunberg) November 5, 2020
The former American president was not the first bully Greta had to deal with. Malena Ernman, Greta's mother, recounts in her memoir stories being told by her daughter about bullies in school: 'There were stories about being pushed over in the playground, wrestled to the ground, or lured into strange places, the systematic shunning and the safe space in the girls' toilets where she sometimes managed to hide and cry before the break monitors forced her out into the playground again. For a full year, the stories kept coming.' According to the school Greta had to take the blame herself since classmates mentioned she did not say hello and was behaving in a strange manner. Erman continues: 'I explained to Greta that she would have friends again, later. But her response was always the same. "I don't want to have a friend. Friends are children and all children are mean."'
'I think I did want friends when I didn't have them, but I didn't dare to get friends,' Greta says in an interview with The Guardian. 'Now I have got many friends and I see the value of friendship. Apart from climate, almost nothing else matters. Fame and your career do not matter at all when you compare them with friendship.'
University
University, where she might enrol next year, is a place for her to test her newly gained social skills and make friends. The eighteen-year-old now also owns her own apartment in Stockholm. Greta shines on the cover of the first issue of the Scandinavian Vogue, has been called out Person of the Year in 2019 by TIME Magazine and was nominated for the Nobel Peace Prize that same year. Nevertheless, it is easy for her to move around freely in the city as a 'celebrity'. 'In Sweden, we have this phenomenon called Jantelagen', Greta says to the New York Times. 'It's when someone is famous, and the people around use up all their energy to ignore the fact that the person is famous. Today I was at a museum, and there was an exhibition. I was mentioned in the exhibition I think four times. There was a huge picture of me hanging in the museum and in the gift shop they sold my books. Yet no one stepped forward and said, "Are you Greta?" They just looked at me. It becomes socially awkward. We have that culture in Sweden.'
Whether Greta will go to college or not, she will continue fighting climate injustice. Last year she tweeted: 'My gap year ends in August, but it doesn't take a college degree in economics to realise that our remaining 1,5° carbon budget and ongoing fossil fuel subsidies and investments don't add up.'
My gap year ends in August, but it doesn't take a college degree in economics to realise that our remaining 1,5° carbon budget and ongoing fossil fuel subsidies and investments don't add up. 1/3 pic.twitter.com/1virpuOyYG

— Greta Thunberg (@GretaThunberg) January 23, 2020
Text and image: © Renske Van Hoof