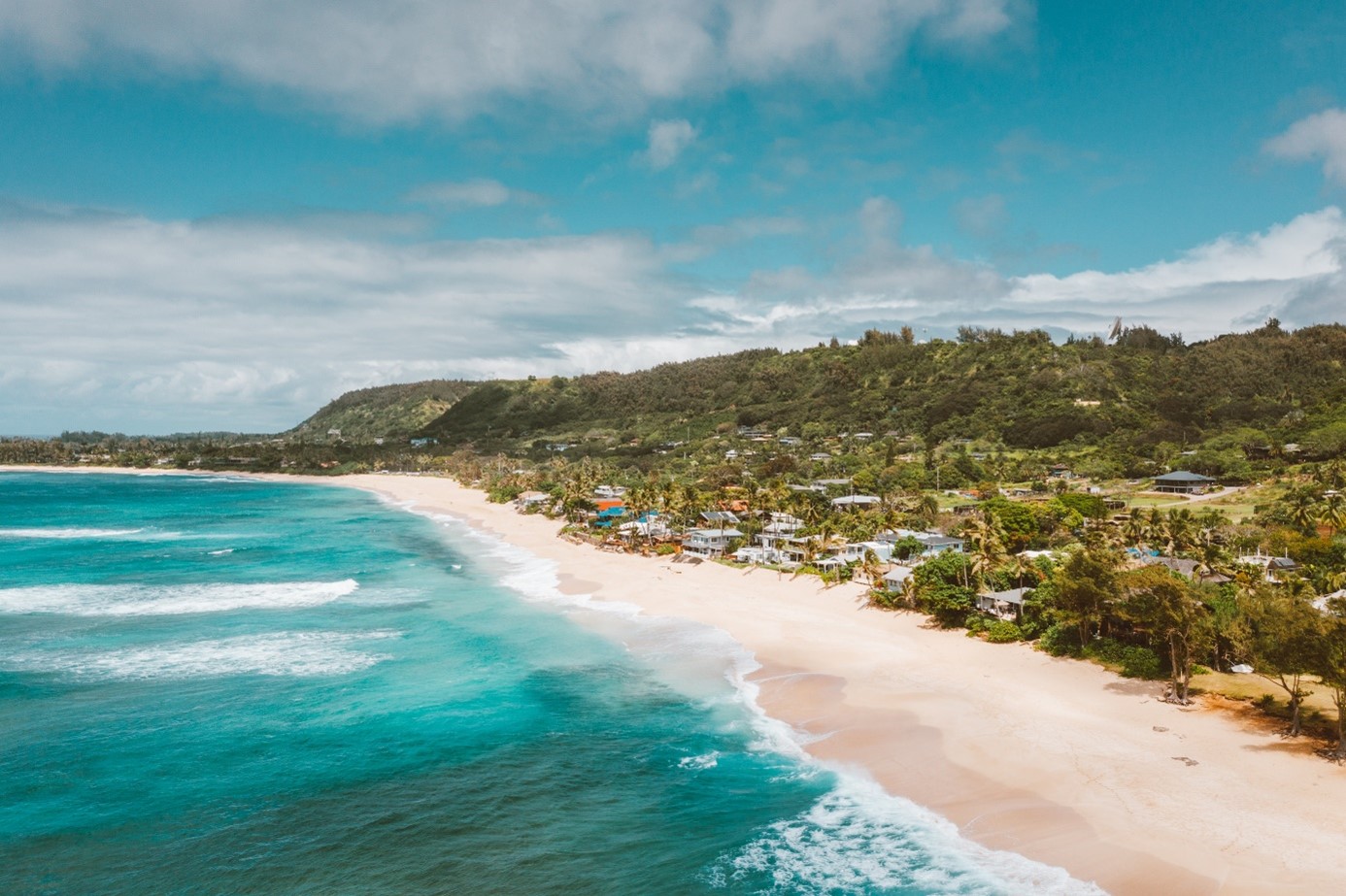 Cook Islands: not high above the sea level, but on top of the travel list for 2022
The Cook Islands is claimed to be the place to visit next year. Travel magazine Lonely Planet announced the island nation to be the number one country to travel to in 2022. 21bis talked to podcast creator and the Cook Islands native Chantal Napa. She sees why her country is attractive to foreigners: 'You come here for everything we do not have.'
Introducing her podcast, Chantal speaks in Māori, or Rarotongan as others also call it since it is the biggest dialect on the Cook Islands. Moana is the only word I'm able to pick up and even guess the meaning of: the ocean. On an island of only 67 square kilometres, the sea is never far away.
'We travel between islands by boat or plane. Some islands only have a population of 300 people and not everyone owns a boat. This results in a lot of them travelling by plane. I interviewed someone who is a crew member on a catamaran. They skipper around the islands and organise excursions to the north and some other islands. When you're on the boat, you just have to close your eyes and imagine you're Moana from the film.'
Resting peacefully
Remotely located, the group consisting of fifteen islands is situated in the South Pacific Ocean. The small nation is officially in a free association with New Zealand, meaning that all Cook Islanders hold a passport from New Zealand. Only a handful of people can call the tropical islands their home. With 17.000 inhabitants spread out over the different isles, traffic jams are a rare occasion.
'When you come to The Cook Islands you have to realise that we do not have skyscrapers, shopping centres, fast food or casinos. People come here to enjoy what we don't have, they come here to rest.'
Peace is sometimes hard to find for tourists flying in from the hustle and bustle of the city. Most visitors come from nearby New Zealand, and – before covid – Australia. Also Canada and the United States are countries where The Cook Islands can count on for bookings. 'We used to have a direct flight coming in from Los Angeles once a week. Canadians and US citizens used to fly over there to catch a connecting flight here.'
Living remotely
'Tourism affects the locals not only financially but also personally. Especially the children look at these visiting tourists and want to have what they cannot have, like an iPad or a phone. I have told my children in the past that these children live in bigger countries, have more money than we do but have come all the way to spend time here with us. The visitors are more than happy to share their games. When my children get older, they will be able to join others in all that. But for now, this 62 square kilometres volcanic rock is their home. I am actually glad about that. They can go away and have a good comparison with what they have here.'
Many youngsters move to New Zealand to study. However, a USP campus – the University of the South Pacific – can be found on The Cook Islands. 'Just a couple of weeks ago 68 students graduated from our university. They do their exams and stuff here and those results are sent to Fiji where the main campus lies. When covid hit, the government initiated the university to be fees-free, which is quite good. In comparison with big universities all over the world, the students here get their lecturers all to themselves.'
Pandemic
Not only students leave the islands. The pandemic had quite an impact on the travel industry triggering residents to leave the island state. 'About a tenth of our population has left to seek work elsewhere. That's bad.'
Tourism accounts for about 68% of The Cook Islands' economy. 'We kind of put all our eggs into one basket financially.' The government provides subsidies and grants for those affected. 'The hourly rate here amounts around eight New Zealand Dollars, which equals 4,83 euros. The authorities have been allocating us 320 dollars a week. On top of that, they reward business grants that come with terms and conditions with which we should comply. Depending on the size of the business, the amount of the grant is decided. I received one last week and used it to repaint my office and pay a lump sum for my electricity. The government has been very supportive. They don't want us to leave.'
The Cook Islands' borders have only been open for three months since the pandemic started and all visitors who landed were from New Zealand. From January 13th onwards, travellers from New Zealand will be welcome again. But only those who have been double vaccinated will be allowed to enter. 'For the rest of the world, we are not sure yet. It will give them time to read up on our country and listen to my podcast. We want them all to be safe before they come here. But our own population as well, we'd like to keep them safe.'
Pristine waters
Not only the residents but also the environment is a matter of concern for the locals. 'We encourage tourists to grab environmentally friendly sun lotion as well as mosquito repellent without components harming our nature. This is for the sustainability of the pristine water of the lagoon. Whenever I used to go to the lagoon when I was younger, we didn't use sun protection. We were told to put on a big hat and go either before ten in the morning or after five in the evening. We never went there high sun.'
When it comes to the conservation of the reefs, the islanders can count on a brigade that goes out and takes care of the corals and wildlife. Specific sea creatures, called crown-of-thorns, attach themselves to the reefs to eat it. Slowly they destroy the reef. The brigade goes out to spear the animals.
Rising sea level
Being surrounded by the ocean, the islands are prone to the consequences of climate change. It is predicted for tropical storms and coastal flooding to increase.
'I am not a scientist. I do think though, that there is a reason that the older generation built their houses away from the shoreline, up in the mountains. My grandparents had a beach house. They constructed it at the furthest end away from the lagoon, around 90 metres away from the beach. Now, houses are placed right next to the beach, only 15 metres away from the shoreline. You have to wonder, why did my grandparents build their house 90 metres away?'
'I also notice that it is quite hot at the beach. I find it cooler in the mountains. It has probably got to do something with the road that encircles the island, following the shoreline. My uncle calls it the 'earth oven'. The whole day, the sun heats up the road. That warm stream of air enters our houses. Whereas in the mountains, there is shade from the trees and a pleasant breeze. Maybe that's why people have summer houses and winter cabins.'
For tourists coming from colder parts of the world, a house in The Cook Islands will always be a summer house. Average temperatures do not drop lower than 22 degrees Celcius. 'If you visit The Cook Islands, you provoke all your senses: you want to smell the different flowers, you want to eat the different foods, you want to see something different. It's off the beaten track. I have said it before. You come here for everything we do not have.'
Text: Renske Van Hoof
Picture: Jess Loiterton via Pexels