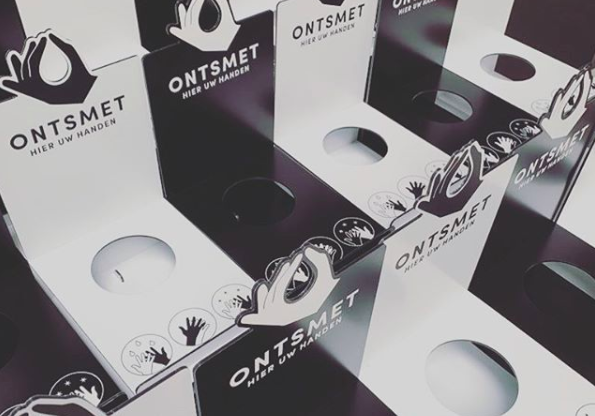 Firma Look at Me start met Clean Hands Please
De firma Look at Me uit Wommelgem maakt nu ook houders voor handgel. Het bedrijf, dat oorspronkelijk gespecialiseerd is in drukwerk, wil met Clean Hands Please andere bedrijven, horecazaken en toekomstige events voorzien van handgelhouders.
Sinds de eerste versoepelingen van de coronamaatregelen zijn doorgevoerd, hebben bedrijven en winkels hun deuren terug kunnen openen. Ook zij moesten de nodige voorzorgsmaatregelen nemen om alles zo veilig mogelijk te laten verlopen. Eénrichtingsverkeer, social distance, een maximumaantal klanten, mondmaskers en de nodige ontsmettende handgel. Het is met de handgel dat Look at Me aan de slag ging.
Duurzaam dibond
Niet elke winkel of elk bedrijf is voorzien van een staander of houder voor handgel. Onder de naam Clean Hands Please maakt het bedrijf deze in dibond. Dit is een materiaal dat bestaat uit twee buitenlagen en één binnenlaag. Respectievelijk uit aluminium en polyethyleen. De houders zijn volledig personaliseerbaar. Zo kan het bedrijf, de winkel of het event een kleur kiezen en het logo erop laten drukken. Tenslotte is de houder ook voorzien van een anti-diefstalsysteem.
Erik De Bruyn, zaakvoerder van Look at Me, licht toe waarom hij brood ziet in zijn zaak: 'In deze tijd is het belangrijker dan ooit om voor elkaar te zorgen waar het kan. Aangezien wij over de middelen beschikken om deze houders te maken was het voor ons vanzelfsprekend om dat ook te doen. Tenslotte móeten winkels hiervan voorzien zijn. We willen vooral de mensen enthousiast maken om hun handen te ontsmetten.'
Plexiglas
Naast handgelhouders is Look at Me nu ook begonnen met het maken van plexiglas op een staander. Ook dit moet eventuele klanten op een veilige afstand houden van tegenoverstaande personen.
Clean Hands Please zit ook op Instagram en op Facebook.
Tekst: Claire Gevers, foto: ©Erik De Bruyn