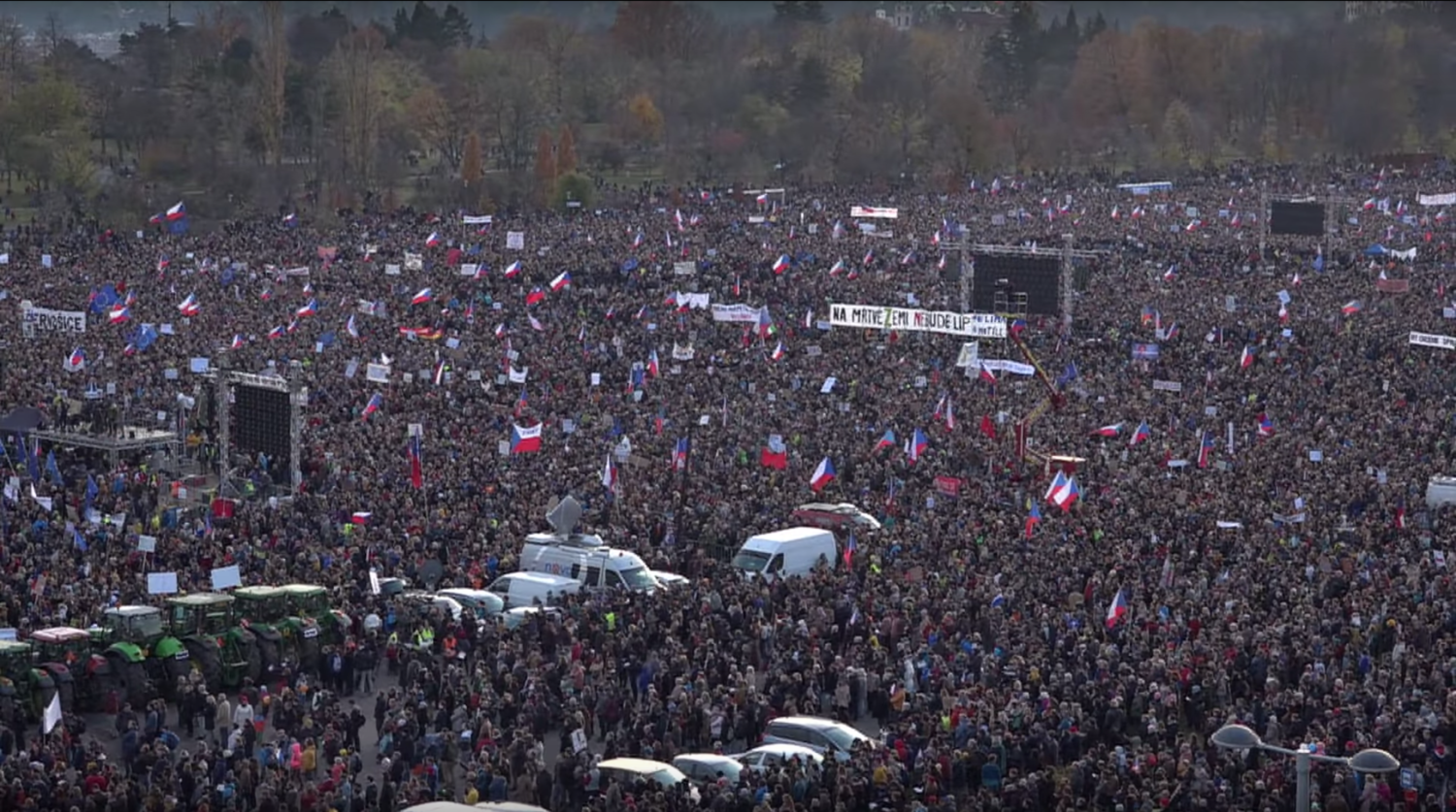 Young Czechs mobilized 250 000 people in massive protests. What drives them into the streets?
Around 250 000 people protested against Czech prime minister Andrej Babis. It was just one day before November 17th – politically charged national holiday. Day that marks anniversary of Czech students being beaten up in 1989 during protest that sparked Velvet revolution. Now no students are beaten, but just like 30 years ago it is young people who came together and organised two biggest protests since the fall of the communist government.
People are calling for the resignation of the Prime minister Andrej Babis – businessman-turned-politician who is ranking as the fourth wealthiest Czechs according to Forbes magazine. Mainly because his links to the company Agrofert, which he put into a trust fund. 'We challenge you, to draw the consequences from your big conflict of interest. Either remove Marie Benesova (minister of Justice) from the office, get rid of Agrofert as well as media or resign as a prime minister,' said, the head of the movement behind the protest Million Moments for Democracy Mikulas Minar. His words were heard by 250 000 demonstrators. That is the size of a crowd that gathered at Letna – one of the biggest open spaces in Prague and also a place that played a key role during demonstrations of Velvet revolution. 
If the conditions are not met, Million Moments promises they will go back to the streets. The movement published four so called 'red lines' representing areas in which the politicians have to play fair. If they cross any of these red lines there will be more protests. Areas Million Moments for Democracy are focused on are the legal system, presidential pardon, conflict of interests and media, because they feel these are the issues where Babis fails. They also want to talk with the Prime minister but he refuses, denying there is anything wrong with the way he runs the country.
Toho pána určitě znáte ???? Moc příjemné setkání. pic.twitter.com/9LfTfwaJmZ

— Andrej Babiš (@AndrejBabis) November 16, 2019
While people were protesting againts Babis, he posted a photo of himself and actor Daniel Radcliff.
Babis' company Agrofert is now technically owned by his trust fund, but it is very probable he will take it back under his control, once he is not a politician anymore. The holding owns media house Mafra that controls two important daily newspapers printed all across the country, and a radio station. Protesters are afraid that Prime minister uses his influence in media and in the legal system to get more power.
Creative funding
One of the main reasons for demonstration in June protest was the fact that Babis was prosecuted for fraud. Prime minister was suspected that he abused EU subsidies to build his centre Stork Nest Farm. 50 millions Crowns (2 millions euro) from EU were dedicated to small and medium-size businesses, something Agrofert would never qualify. In 2007 Stork Nest Farm departed Agrofert holding, received money following year, and after several years got back to Agrofert. The company eventually gave the money back.
Criminal prosecution of Babis was stopped this September by the Prague state attorney. 'PM still carries moral and political responsibility. Unfortunately Czech politic culture reaches its bottom,' wrote lawyer Jan Dupak from NGO Transparency International for Denik Referendum. That is exactly how people in the streets feel.
The case of Stork Nest Farms was known before parliamentary elections in 2017 and Babis still won. His voters appreciate his charisma and energy. Many see him as a tough businessman who will find a way how to get the best for the country.  Czech Prime minister who comes from Slovakia speaks English, French German and Russian. He is often accused from cooperation with communist secret police StB. Babis is refusing any allegations and his cas was recently reopened in Slovakia.
European Commision is currently preparing audit that should shed a light on the question if Czech Prime minister is in the conflict of interests. It is unknown when that will happen. Previous
Divided society
A quarter of million people is big number, but it is far from giving an accurate picture of the divided Czech society. In the last election, president Milos Zeman who, according to his words, is ready to give Babis a pardon, won with 51 % of votes. People at Letna are mostly intellectuals and parties that they usually vote for have not won any presidential or parliamentary elections since 2013.
'Now first time after some years, people along with a huge crowd at Letna convince each other that Babis is not invincible, which might sound banale, but part of society needed to hear exactly this and maybe even believe it a little,' wrote Jindrich Sidlo, chief commentator of news server Seznam Zpravy.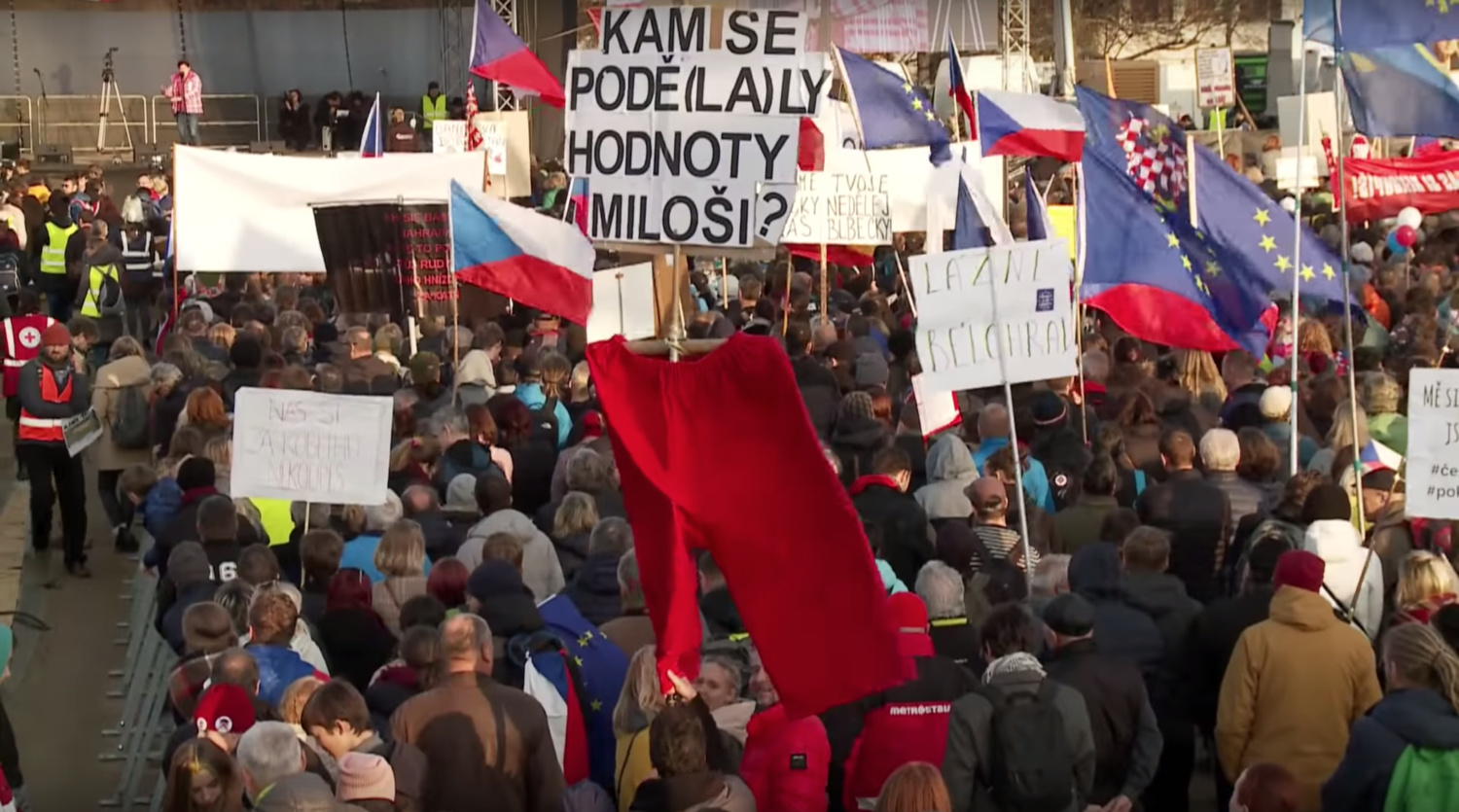 Things changed last year in Prague, where Babis' populist movement ANO lost elections and the city is now run by coalition of the parties that has been criticising Babis for a long time. But that is a big city – same place where most of the protests are concentrated. Across the whole country ANO has still big suport of 30,6 % in polls to parlament.
There are voices, calling for unification of the parties in the so called 'democratic opposition' (does not include communist party and right wing nationalists SPD'). If they would do that, it might actually result into more seats in the parliament for the opposition. Liberal Pirates who are gaining more and more support are however not on board with that.
Czechs will have a chance to deal the new cards to the parties in parliament in 2021 and new president will be chosen in 2023.
Text: Jakub Riha