(Re)allocation Berlin: The hidden insurgence of Osman Kalin and Kunstquartier Bethanien
KREUZBERG: The aesthetic contrast between Osman Kalin's treehouse and Kunstquartier Bethanien in Berlin's Kreuzberg district is large. Look a bit closer however and you might be surprised to discover their founding principles were not so different.
Berlin is undoubtedly one of the most amazing cities in Europe. Its historical background is fascinating, with one of its main features being its cultural heritage. After the Second World War, most of the buildings in Berlin were demolished; meaning new structures now dominate the urban metropolis.
On the streets on Kreuzberg for example, you will be met by simple low buildings, without pretentiousness and bright colours. The low-key style and dullness of this city may seem very depressing to many people at first glance, but is it really so?
It was a birthplace for alternative society – a platform for open culture, political and social dialogue – where art and activism made sweet love
Kunstquartier Bethanien
Imagine a fearless centre for alternative contemporary art and Kunstquartier Bethanien should spring to mind. A former 19th-century hospital, the art centre is right up there as an epicentre for Berlin creatives. The Bethanien building holds a reputation for being one of the leading places in cutting-edge independent expression and so much more. It was a birthplace for alternative society – a platform for open culture, political and social dialogue – where art and activism made sweet love.
Revered Hospital to Artistic Squat
The struggle for creative freedom is inextricably linked with the political and social dynamics of the city and, most importantly, with the long tradition of civil initiatives. One of those initiatives that began with the occupation of the Bethanien building in Kreuzberg gave rise to the cult platform of alternative art, which today is considered one of the last of its kind. Over the past decades, the building on Mariannenplatz has been a centre for independent art.
The building was commissioned by Frederick William IV, a former King of Prussia, in the middle of the 19th century. For more than a century, it was the location of state medical institutions and even survived the Second World War without damage. However, in the 1970s, it was decided to demolish the hospital. It was then that activists took measures to protect the institution, raising public awareness of the historical significance of Betanian and paving the way for environmentalists to offer several redevelopment plans. Then, in 1973, the complex of buildings was redesigned and reopened as a centre of independent art and culture. 
Bethanien Hospital was one of the first artistic squats in the city, famed spontaneous, creative and rebellious enterprise, giving it the name of Berlin's most influential cultural centre.
A room has been dedicated to remembering the Kunstquartier Bethanien's former position in the community as a hospital © Kate Ostrovskaya
What's next?
Today, several large art and culture institutions are open and operating for business in the central rooms of the former hospital. The Kunstraum Kreuzberg/Bethanien communal gallery, BBK Berlin printing workshop of cultural work and the Friedrichshain (Kreuzberg music school), exemplify the variety of creatives at work. But it doesn't stop there. In addition to these large institutions, the building has 25 more various workshops, galleries, and public spaces. For more information about the events taking place at Kunstquartier Bethanien, head to kunstquartier-bethanien.de/. Update: At the time of publication, all exhibitions have been postponed due to Coronavirus (COVID-19).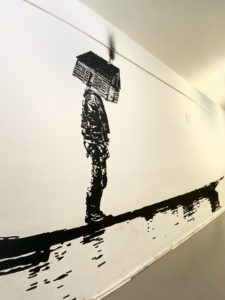 Baumhaus Treehouse
There are no doubts that Berlin is an epitome of a city with structural diversity. Moving on from the regal-looking Kunstquartier Bethanien, we transition to wholesome modesty in the form of 'Baumhaus an der Mauer'; discovering its change in purpose over time since the fall of the Berlin Wall. 
'It was an alternative living arrangement like a squatters' place made with old materials from the street,' said one woman when asked if she knew any information about the Baumhaus.

Another local commented that 'I think a man lived there and built it himself.' 
Nothing more and nothing less than an old hipster's home it seems, but is this the whole story or is there more to the rusting scrap metal and rotting wood than common knowledge articulates?
The Power of Vegetables
Also known as the treehouse on the wall, the disarranged structure began to materialise in 1982. The account of its formation is just as curious as its appearance. In search of a hobby to fill his free time Osman Kalin (1923-2018), came across a neglected 350 square metre strip of land next to a section of Kreuzberg Wall. 
The former construction worker from Turkey had the vision to transform the abandoned lot into a healthy vegetable garden and it was there, on that plot of land – legally under the jurisdiction of East Germany, but on West German earth – that Kalin built a symbol of defiance.
Kalin became known as a local hero for his anti-establishment endeavours. When the Wall came down in 1989 however, the topsy-turvy house was no longer in the area of Kreuzberg but in Mitte and people saw Kalin as just another vagrant.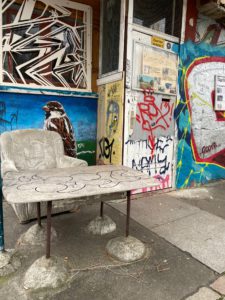 The Baumhaus still contains many of Osman Kalin's belongings © Kate Ostrovskaya
What's next?
Today, nestled between a row of trees adjacent to the Sankt Michael Church, the Baumhaus is surprisingly easy to overlook. Although the place was created using recycled unwanted materials – which sat for two decades on the site before Kalin got to work – the mishmash of colours and textures form a quirky harmony blending in with its weathered and graphite heavy urban surrounds. 
Unlike most buildings where the structure itself presents the most prominent impact, it was the soul and values of the inhabitant which gave the rustic place meaning. 
In an interview with the BBC in 2018, Osman Kalin's granddaughter, Funda Kalin said "he was really friendly to everyone, he didn't care if you were a soldier sitting at the top of the Wall, or a West Berlin police officer. If you wanted to have garlic, tea or some baklava he would invite you to the garden".
Back to the present day, there is talk through the grapevine of stamping Baumhaus an der Mauer as an unofficial monument and even a private museum. Although public knowledge of Bauhaus is hazy, a display of protest by local people in reaction to plans of demolition to make way for real estate development, it looks set to remain firmly rooted for the conceivable future.
If there was one word to describe the Kreuzberg district, it would be 'uprising'. Whether it is hidden in Baumhaus's bushes, or encompassed by spender inside Kunstquartier Bethanien, the insurgence of the people and their messages to Berliners and beyond, prevails.
9 Trendy Hotspots to Visit in Kreuzberg
Why not use time in quarantine to plan your next trip to Berlin? To help you out, our interactive map gives you nine hip hit-list suggestions. If vegan cafes, queer bars and experimental artistic expression takes your fancy, Kreuzberg is the place to visit.
Text: Sara-Jane Vanstone and Kate Ostrovskaya, pictures; © Kate Ostrovskaya