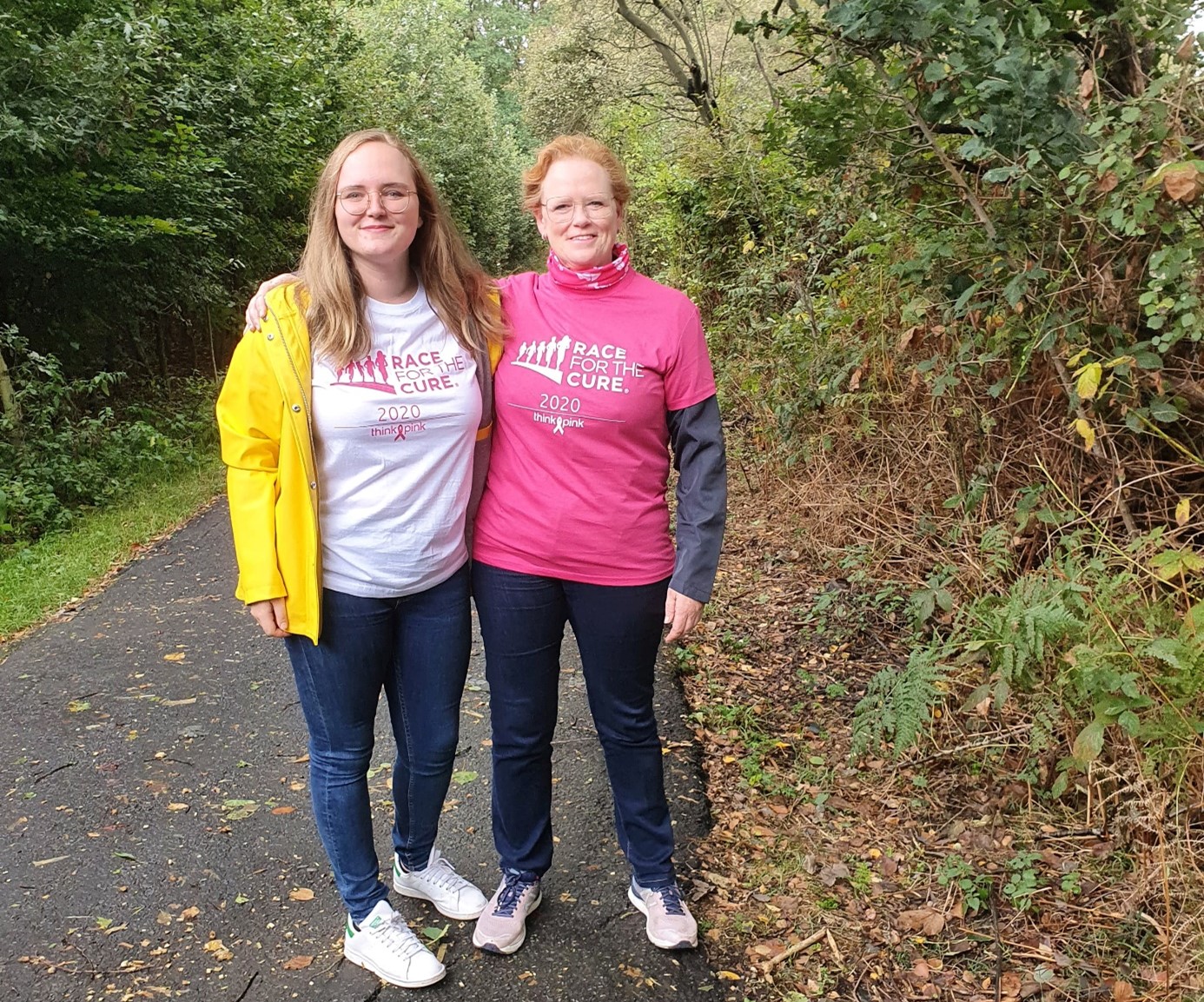 Meer dan 8.400 wandelaars zamelen met Race For The Cure geld in voor Think Pink
In het weekend van 25 tot 27 september vond de Race For The Cure plaats, dit jaar digitaal. Deelnemers konden op een onlineplatform het traject dat ze zouden wandelen ingeven. Ook Lisa Berendsen en haar mama, lotgenote Ilse De la Ruelle, stapten mee voor bewustheid rond borstkanker en om geld in te zamelen voor Think Pink.
Afgelopen weekend, van 25 tot zondag 27 september, organiseerde Think Pink opnieuw de Race For The Cure om het bewustzijn rond borstkanker te vergroten. Om alles coronaproof te laten doorgaan koos de organisatie dit jaar voor een digitale versie van het evenement. De inschrijvingen van de wandelteams verliepen daarom via een onlineplatform, dat in 32 landen beschikbaar is. Het platform toont onder andere foto's van partners van Think Pink en deelnemers, en een kaart van de verspreiding van de teams.
De deelnemers stippelden hun eigen route van 3 km, 5 km of meer uit op een plaats naar keuze. Bij de inschrijving kreeg iedereen ook een T-shirt: roze voor lotgenoten, wit voor hun vrienden en familie. 'Lotgenoten zijn mensen die nu borstkanker hebben of het al overwonnen. Dit zijn voornamelijk vrouwen, maar ook mannen kunnen met de ziekte geconfronteerd worden', legt wandelaar Lisa Berendsen uit.
'Meer dan 8.400 wandelaars kwamen in heel België in beweging voor de Race For The Cure, dat was een heel groot succes en boven onze verwachtingen. Het platform van Think Pink Europe toont het actuele aantal inschrijvingen en de verdeling ervan over verschillende landen, al kan inschrijven en sponseren tot eind september', aldus verantwoordelijke Race For The Cure Antwerpen, Siel Vanden Abeele.
Tekst: Laura Poelmans, foto: © Lisa Berendsen