The end of an era: football icon Maradona dies at 60
Diego Armando Maradona Franco, the Argentinian professional footballer has passed away at the age of 60, due to a cardiac arrest. A God to many football fans, one of the greatest players of all time to others. The year 2020 does not stop surprising us, unfortunately in a negative way.
Maradona was born, raised and praised in Argentina. After playing in Argentinian youth teams until 1982, Maradona trades his home country for Spain. FC Barcelona would be the first team he plays for. After two years, the Italian football team Napoli buys Maradona from FC Barcelona. A team Maradona would play for for seven years. In 1992 he moves back to Spain to play for Sevilla, but decides to go back to his home country in 1993, to finish his career as a professional football player in 1997.
After 20 years of being on the pitch, the Argentinian legend becomes a trainer. Up until he died, Maradona trained eight teams.
Down memory lane
Maradona helped many of the clubs he played for, to important wins. While playing for FC Barcelona, he won the Copa del Rey, the Supercopa and the Copa de la Liga. With Napoli, he won the UEFA Cup, Serie A, Coppa Italia and the Supercoppa Italiana.
Not only the national, but also the international matches were a success if you had Maradona playing in your team. In 1986 he won the World Cup, playing for Argentina. This game became one of the most memorable World Cups of all time. In the quarter-final against England, Maradona scored what he called the 'Hand of God' goal. A few minutes later he scored a second time. This was announced Goal of the Century by the FIFA (Fédération Internationale de Football Association).
'Diego Maradona was not just praised by fellow Argentinians. People and football players from all around the globe looked up to him. When Argentina played against England in 1986, he scored the Goal of the Century. Gary Lineker, one of England's biggest football players of all time, was on the pitch when Maradona scored that particular goal. He was on the verge of clapping for Maradona, and for that goal at that exact moment. He decided not to, since it was quite inappropriate towards his own team. But this show exactly who and what Maradona was, to other players too', Valentijn Horemans, teacher Sports Journalism and editor-in-chief for Sports at RTV (Regional Television), says.  In 1990, Argentina became second in the World Cup.
Sex & Drugs & Rock & Roll
Diego Maradona's career was not all fun and games. People saw him as a celebrity, a super star. And that's exactly how he lived his life. He was not only popular on the pitch, but also among women. He was a womanizer, so to say. A more expensive addiction that Maradona suffered from, were drugs. In 1991 and 1994 he was suspended for the use of cocaine.
'When it comes to Maradona's lifestyle, times have definitely changed. Today's professional football players have a very strict lifestyle, with a specific diet, training- and workout plan. Maradona's way of living his professional life couldn't be more different. He would go to clubs, use drugs and drink way too much alcohol while he had a match that weekend. You wouldn't last long in the team if you'd do the same today', says Horemans.
Awards
To win an award as a professional football player is a dream to many. Diego Maradona did not win one prize, he won ten. Apart from scoring the Goal of the Century, he also became FIFA Player of the Century in 2000.
Messi or Maradona
Depending on who you ask, Lionel Messi and Diego Maradona are both seen as one of the greatest football players of all time. They share their Argentinian nationality, but are we actually able to compare them?
According to Valentijn Horemans, Lionel Messi is definitely one of the best football players, but incomparable to Diego Maradona. 'First of all, those were different times, so it is not quite easy to compare their qualities as a football player. Nevertheless, Messi won't even come close to Maradona when it comes to charisma, personality and the way he was seen and praised by other people and fellow colleagues. One thing Messi didn't manage to do yet, and Maradona did, is to win the World Cup with Argentina.'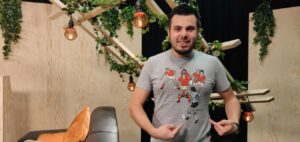 Tribute
Some of today's biggest athletes have already paid tribute to the Argentinian icon. Fellow football players Lionel Messi, Neymar and Cristiano Ronaldo posted on their social media about their idol.
Messi says: 'Diego is eternal'

Ronaldo says farewell to 'an eternal magician'.

Maradona leaves five children behind.
Text: Claire Gevers, photos: ©Pinterest, ©Valentijn Horemans