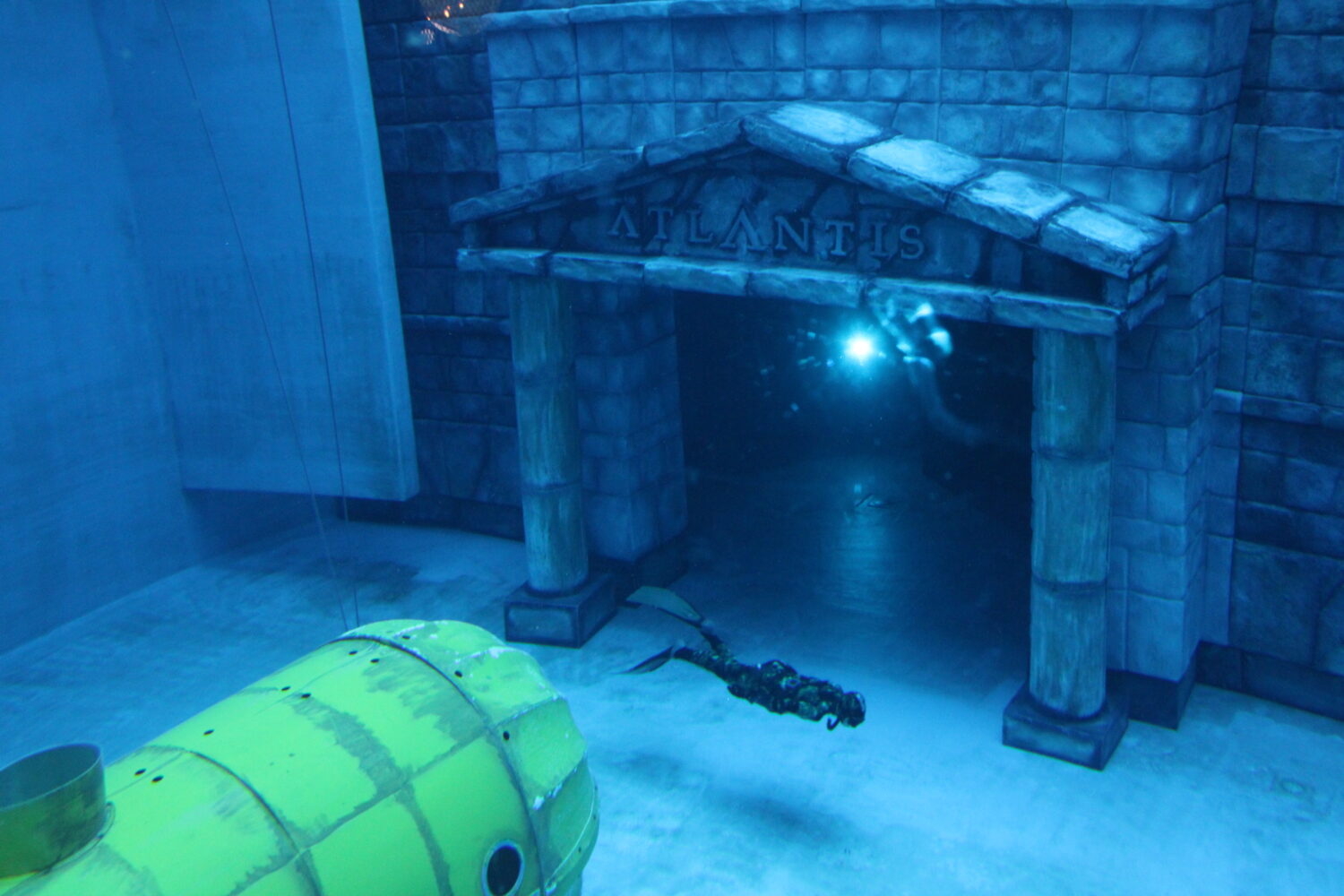 Take a dip in the former fuel tank of Transfo Zwevegem
Transfo Zwevegem is a unique conversion project of the municipality's old power plant. Located in the heart of West-Flanders, the location offers adventure for young and old, including a one-of-a-kind diving tank. Our reporters went to have a closer look at this unique attraction. This report is a part of the series Reporting the city, where 21bis covers interesting neighbourhoods throughout Belgium.
Our voices are nearly drowned out by the humming machinery inside of the former fuel tank at Transfo Zwevegem when we call our contact Marc. Marc is one of the patrons of the diving tank, which is a part of the conversion project of Zwevegem's former power plant. Through the buzzing sound of rain and machine alike we can barely make out what Marc tells us. 'I can't understand you, but come on up.'
When we walk out of the elevator, we find Marc on his rickety plastic chair alertly observing a group of divers. He briefly explained to us how the fuel tank had been converted into a diving tank. 'The power plant has been closed for a while because coal-fired plants have fallen out of favour in recent years. The township however wanted to keep the site and convert it into something new. At the beginning nobody knew what would become of the fuel tank. Then, during a discussion with a diver, the idea was floated to just fill the whole thing up with water. Unfortunately it wasn't as easy as that and a lot of work had to be done to convert the tank.' Marc proceeded to tell us how hard the project had been. In the end, only the outer shell of the tank remained. The top had been sawn off and a completely new structure was built inside.
'We are very focussed on training'
Meanwhile, the diving tank has been operating for six years. The concept is completely unique in Belgium because divers can utilize their own equipment, while other tanks do not. Marc says that this simple fact attracts a large number of professionals and hobbyists who want to test drive their new gear. 'Of course, there are also people who just want to come here for a little bit of fun or to practice a bit before they go on a holiday. We also offer training and a lot of the practice is focussed on proper technique.' Finally, Marc tells us that prospective divers can also learn wreck diving at Transfo. 'There are multiple interconnected spaces behind the wall. Inside that labyrinth you can practice diving in dark and cramped places. We are very focussed on training.'
When we leave the tank, we are kindly greeted by Hannes. Hannes has been working as a flexijob at Cafeteria/Zomerterras Duiktank for three years. Although the sun is hidden behind the gray clouds and a few drops of rain fall every now and then, the visitors and thirsty locals can still have a drink under one of the umbrellas or on the covered terrace. 
Engine room
A little later, Hannes proposes to give us a tour of the dive tank's engine room. Filters to get the big dirt out of the water, smaller sand filters, everything is in the room: "If the electricity would fail here for an hour or two, all the water in the tank would have to be changed. For now, we haven't had that happen, but it always can. I do think we have a backup generator", he laughs.
Next to the gasoline tank that Duiktank is in, there is another one. "In this tank we will open a brasserie next year. Normally it would open this summer, but due to the corona crisis the plans have been delayed", Hannes tells us. 
Paulette Loosveldt has been involved with Transfo from the very beginning and was mainly responsible for coordinating the project. In the early 2000's, when she was still working at the township, she was responsible for culture, tourism and heritage. Logically, a project such as Transfo where cultural heritage meets tourist attraction, seems to have been tailor-made for her.
Emscher Parc
During the early days of the project after the township had purchased Transfo, Paulette travelled to the German Ruhr area with some colleagues from Leiedal and the province of West Flanders. Their goal was to see how their German counterparts had tackled similar problems. 'We went to the Emscher Parc, which is an area ten times larger than Transfo. One of the attractions there was a fuel tank that had been converted into a diving tank. My colleagues and I were immediately sold on the idea.'
The diving tank turned out to be a huge success. Paulette tells us that people travel considerable distances to visit the tank for training, diving certificates and recreation. 'The tank is especially coveted during the winter. The open water is very unpleasant during the winter months and as a result people flock to us. We even have a lot of French visitors. You can tell by the license plates.'
Have a look at a timeline of recent diving tank-related events below: 
Text: Andrei Stiru and Sam Depraetere, image: Andrei Stiru