De Jezuïetenkerk in Lier: van kerk naar concertzaal
Van kerk naar concertzaal: de jezuïetenkerk in Lier doet vandaag de dag dienst als repetitie- en concertruimte voor de grootste muziekschool van België. Een geslaagd herbestemmingsproject waarbij de kerk een nieuw kloppend hart kreeg. Voor de reeks Reporting the City bezochten onze 21bis-reporters Amaryllis De Bast en Kasper Speltincx de kerk.
De kerk werd gebouwd in de achttiende eeuw heeft een typische barokstijl. Ze is gebouwd met baksteen en natuursteen.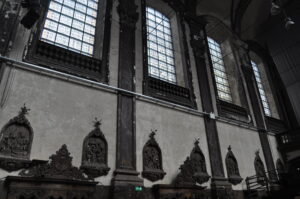 In 1906 werd een sierlijk witmarmeren hoofdaltaar geplaatst. Er werden toen ook zes nieuwe, gekleurde kerkramen geplaatst, maar acht jaar later viel een granaat in de tuin van de kerk waardoor alle ruiten verwoest werden. Het altaar werd toen ook door brand vernield.
Bart De Vos is gedelegeerd bestuurder van vzw Edward Bressinck, die eigenaar is van de Jezuïetenkerk. Dit is de laatst gebouwde Jezuïetenkerk in België. Vandaar dat ze zo authentiek is.
Vroeger stond de kerk leeg en verkeerde ze in een staat van verval. Nu kan je er genieten van een concert of voorstelling. Op deze manier heeft de Jezuïetenkerk in Lier een nieuwe functie en gaat haar charme niet verloren.
Bekijk hier de volledige reportage.
Reportage & tekst: Amaryllis De Bast & Kasper Speltincx, foto: © Amaryllis De Bast