IN PICTURES — Quarantining in a new way?
Education First Ashridge Hult opens its doors to be a quarantine Camp since the organisation EF had to deal with the effects of the pandemic starting in 2021. During their high season, many countries were only open for students after they spent their first week in quarantine.
For the UK, the quarantine rules were strict, but due to the EF schools high demand, they came up with a solution – quarantine camps. Ashridge house in Berkhamsted was one of their quarantine camps there. But why would students want to go to a quarantine camp? Well, at Ashridge they handled it differently. We've all been through lockdowns, wanting to go on vacations but sadly quarantine comes with travel as Belgium is now coloured red again.
Every student was assigned to a bubble with a maximum of 17 students and an activity leader. In this group, they ate, went to class, and did all kinds of activities. This way of quarantining was of course new for the organisation.  Kiera Long, an activity leader of the camp told me that 'Although some aspects of the amber camps were not ideal for the students or staff, the activity leaders made sure that everyone was having fun and that there was always something to do! It was nice seeing the students partaking in different activities within their bubbles and making new friends before heading to their final destinations. I think that the EF staff did a great job at providing fun activities, care, advice and a friendly face for the students to talk to.'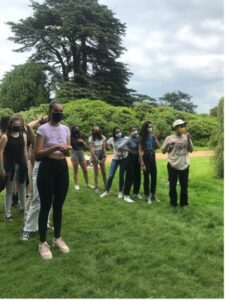 But this sounds too good to be true right? Can you really trust teenagers to not mix bubbles? To avoid students mixing bubbles, covid marshals regularly checked on students to ensure that they followed the covid regulations. Eduardo Gasco talked openly about his experience.
'It was certainly one of the best experiences I've ever taken part in. I recommend this study trip with EF to everyone at least once in their life. Thanks to all of the great spaces we had the opportunity to live in, but above all to the staff, I spent a great time with in Ashridge despite the quarantine. Our leaders, in particular Cosino whom I had the pleasure of meeting, prepared numerous activities for us to carry out as groups. unlike many other experiences that I have made, this is certainly the one that paid the most attention to the COVID rules, making us have fun despite of all the due restrictions.'
Since educational travel counts as essential travel, multiple companies like EF had the opportunity to open several of their schools already during the summer of 2021. However, travel restrictions were considered strict about the quarantines. Meaning, a lot of students could not start their educational travel right away. In the UK, this quarantine applied until the end of summer and even longer if you were not vaccinated. During some weeks, the EF camps had up to 200 students.  These students would leave for the school/city of their choice after their mandatory quarantine.
A different way of quarantining, to make the most out of any situation. Especially with the Belgium's numbers going up again.
Text: Anke Vandeweyer, final editor: Jellen Monsieur
Photos: © Anke Vandeweyer and Sophie Zeni