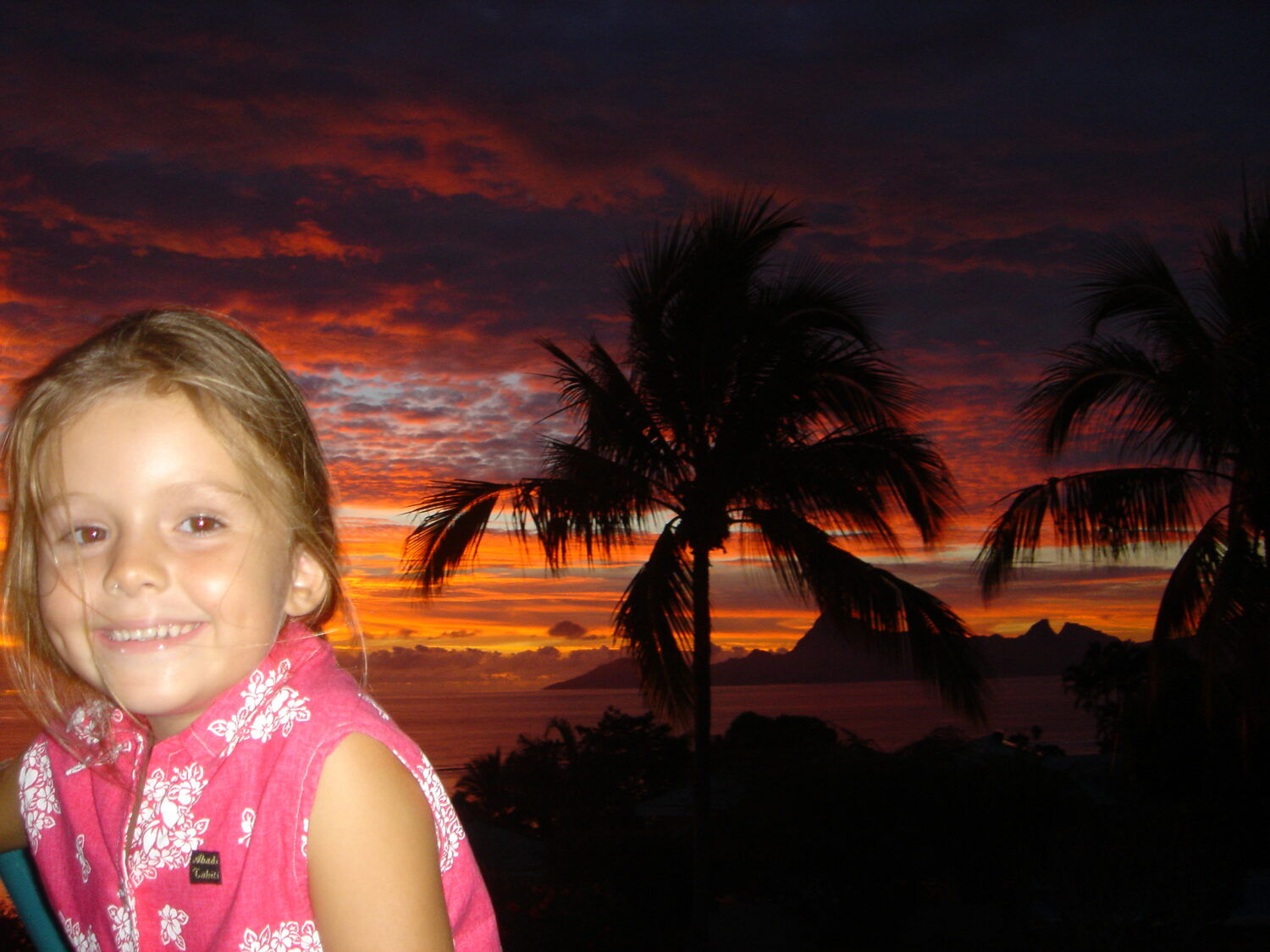 COLUMN – Growing up in paradise
I write this piece surrounded by pictures from my childhood. Crystal clear water, overwater bungalows, beautiful beaches and warm weather year-round. A dream honeymoon for some, but for me it was my home. Growing up in Tahiti, French Polynesia was truly like living in paradise.
A new life 
It was the year 2001 and my parents were suddenly unemployed. The Belgian airline company SABENA that had been successful for almost 80 years when it suddenly went bankrupt. My dad was a captain who didn't know where to start looking for a possible new job and my mom was a chief of cabin that had to take care of a one year old girl (hint: me). 
My parents started looking for vacancies at Air France, KLM and many more but everything was full. Suddenly, they found something. A job offer on an island literally on the other side of the world. They didn't hesitate. My dad took his bags and left for three months to apply. On my  second birthday he came back and told us to get ready to leave with him. A new chapter was about to begin.
The contrast
When people ask me if I liked my childhood I look at them and laugh. I used to drink fresh water out of a coconut on my way to my beachfront school with the morning sun shining on my face. What do you think? My days were filled with pretending that I was a mermaid in the turquoise lagoons, eat the juiciest mango's (which are still my absolute favorite fruit) and befriending hermit crabs on the beach.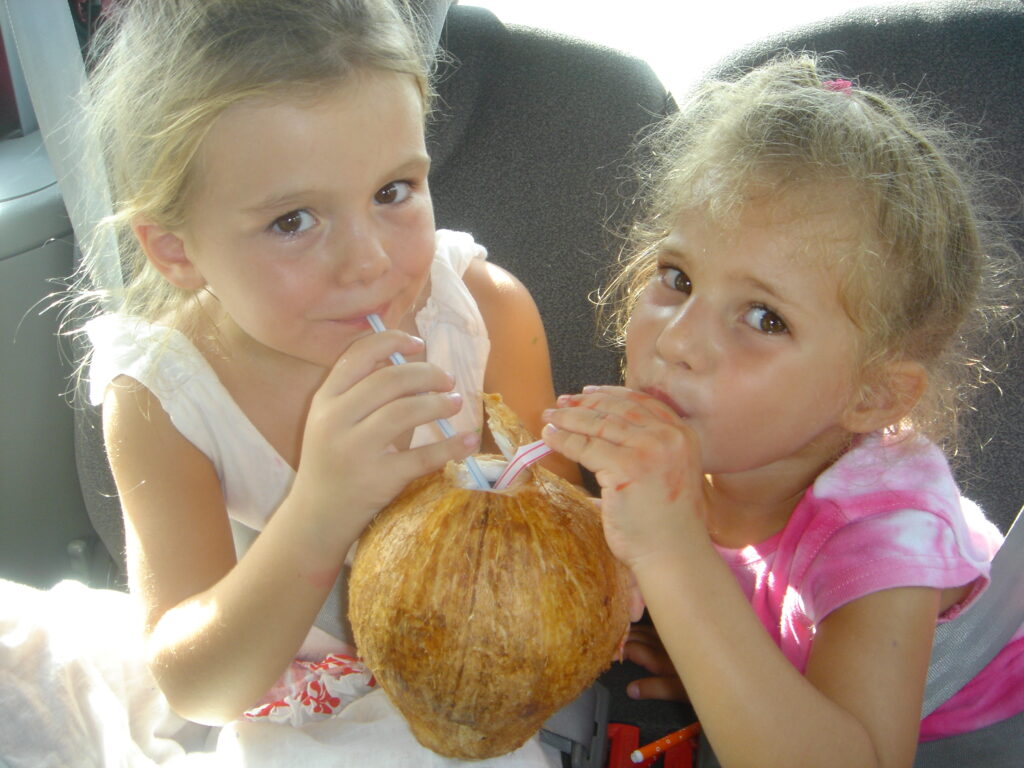 Most kids fake a cold at school to then sit at  home. My parents faked me being sick to take me to the Billabong Pro, the world famous surf competition, when I was 7. I did attend school though, don't worry. But the stuff they taught us in Tahiti was a little different than what they teach here in Belgium. Instead of teaching ethics and trips to forrests, we got taught the Tahitian culture and how to make coconut milk. 
The mornings usually consisted of me running outside to play with my dog, Joy. If it wasn't a schoolday we would join up with some friends and take the boat our for a ride. To put things into perspective, I could wakeboard before I could ride a bike. To end the days off we would go to the Place Vaiete where at night all different types of food trucks, or roulottes, would sell delicious meals. You could choose between poisson cru au lait de coco (raw tuna in coconut milk), Chao Men, Mahi Mahi in vanilla sauce and many other specialties. 
One community 
Tahiti is small. It's big in comparison to the other islands of French Polynesia Ahe or Moorea, but it's still just a tiny piece of land surrounded by water. Which is why the island is more of one big town. Wether it's on the way to school or at the grocery store, you're almost sure to run into someone you know. A hell for some introverts but on the islands we consider each other one big family. Of course the bigger islands have that a little less than the smaller ones but the sense of community is very much there. 
On the islands you connect with people from all over the world and meet some of your best friends. It's been a few years since I've left but every year I go back, I meet up with the same friends I've had since I was a little kid. Then it's like we've never had to miss each other.
My past and future
Tahiti really shaped me as a person. It has made me the person I am today. Corny, I know, but very true. My biggest passion in life are sharks and the underwater world. I still remember my first interaction with a shark. We were on a vacation in Maupiti, an island of about 13 km². My mom, dad and six year old me were on a kayak. I had goggles on that were way too big for my head and with my body still in the yellow kayak I plunged my head underwater. 
I expected to see butterflyfish and sergeants but what I saw instead caught my interest, and has been for 20 years. I saw a blacktip reef shark about my size. Without hesitation I jumped in the water to have a closer look of that beautiful creature. That probably traumatized my parents. Either way, that little interaction made me fall absolutely in love with these animals. 
About a year later I started scuba diving. The first dive I can actually remember was in the lagoon of the island Taha'a. I was about 8 years old and my mom joined me. We were looking at the beautiful fish and the thriving coral when suddenly everything got dark, like a massive cloud that came in front of the sun. We looked up and saw a beautiful 7 meter wide manta ray. The elegance that animal had is engraved in my memory forever. 
I could talk about marine life and how interesting, complex, yet endangered it is for hours. Truly, ask my friends, it's becoming a pain in their… That passion came from living on the island of Tahiti. I experienced first hand the beauty and the destruction of marine life. Every time I go back I notice it more. The coral is loosing its colour, the whale spottings are become more rare and the shark sanctuaries aren't thriving as much. That's something I want to change. I want the dive sites of Tahiti, and all over the world, to re-become  the aquariums they were before.  
Even though I don't live there anymore, I still call Tahiti my home. It's where I am the happiest, where I get to live my passion every single day, where I'm the purest me. I am beyond grateful to have been able to grow up in a magical place like that and hope my kids will experience that as well. 
Text & Images: © Zoë Van Schooten