A recap of De Warmste Week by Radio Roem
Today, on Thursday the 23rd, Radio Roem gave a liveshow for De Warmste Week. From 10AM until 18PM you could tune in to listen to interviews, request songs and donate money to support the project. This years theme is all about being able to be whoever you are, but how did today actually go?
'Today has been very hectic, just like I expected it to be. But nonetheless very fun. It's very clear that everyone wants to mean something to the project and everyone is doing their part. People are very passionate about it all. I think we can definitely call it a success so far, lots of people are present and there are a lot of callers.
There have been some stressful moments, but I can't remember exactly why. Though I think the most memorable moment of today was definitely the class that came together with their German teacher, in order to request a song as a goodbye anthem'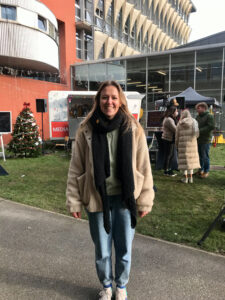 'Considering I'm one of the producers, I've given my all to this project. I think the theme is incredibly important, which we've also been trying to bring across. We've all worked very hard and I think we've all lost a part of ourselves in the initiative. There was one pretty crazy bidding of 150 euros in exchange for a voicemail by Roos Van Acker. Another fun one, was the 100 euros that were given to replace Thomas Mores general manager Stijn Coenen for a day.
It has been a success, the lists are filled with song requests, lots of people are watching the show. Besides that our social media following is also growing, we regularly post vlogs and updates. Our reach isn't limited to campus Mechelen, other campuses can also follow the show. There are cyclists going from campus to campus in order to check out the activities and collect the money that was made.' 
'We all just came back from a run, joined with the police and the minister. This was very tiring, but we all got to talk to them about our student association, Educa. We personally think it's very important to have student associations like ours. They aren't as bad as the media often portrays them to be. Sure, there are extreme cases like Reuzegom, but mostly it's great way to make friends. Getting baptized is a fun tradition where we play games and get messy. We provide showers for those who need them and respect limits. 
I think for us as a group we also want to make it clear that no matter what you look like, what you like or how you act, you will always be welcome with us. Everyone is free to be whoever they are.'
Text: Charlie Haemels, final editor: Zoë Van Schooten
Images: Charlie Haemels