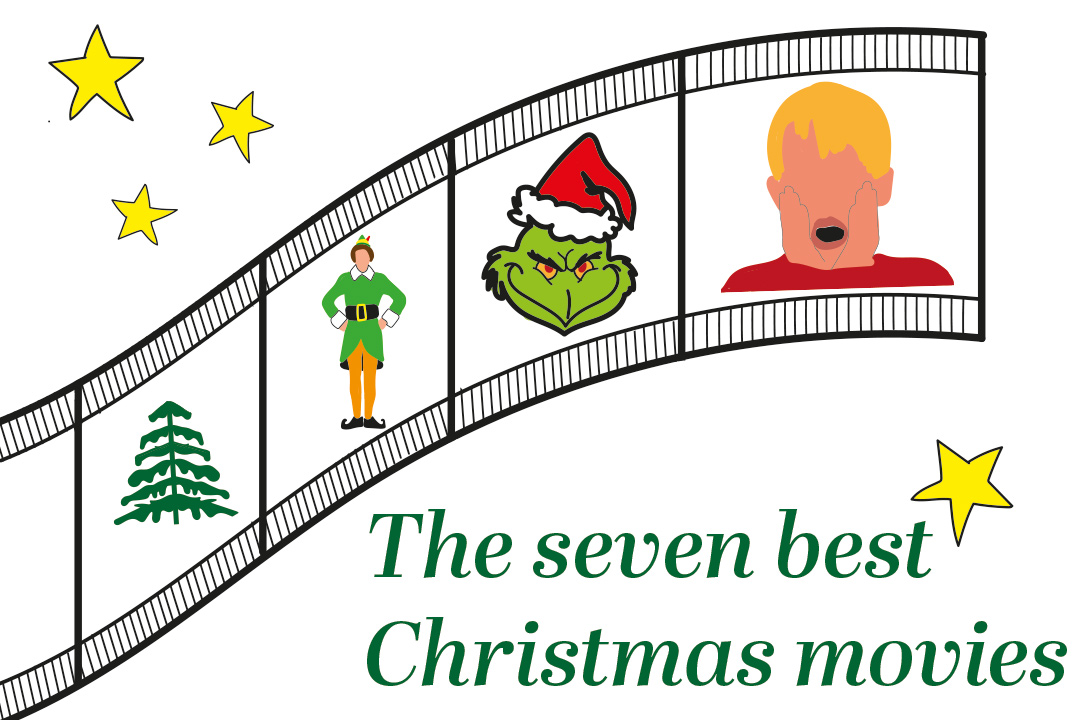 The seven best Christmas movies
Christmas might be over, but the holiday spirit isn't quite gone. Still in the mood? Then prepare to cuddle up in bed or on the couch with a hot drink and some delicious goodies. A movie marathon is one of the best ways to get that true Christmas feeling we love and desire. Don't know what movies to watch? Here are some all-time fan favourites:
The Holiday
Jozefien-Charlotte DeWaele will choose The Holiday above any other Christmas movie. 'It's the best movie of all time', she says. 'It's funny, the actors are amazing and it's overall just a great story. During the holidays I want to watch a feel-good movie and that's exactly what The Holiday is to me.' Two women decide to spice up their lives and opt for a peaceful holiday. To do so, they exchange houses. They soon find themselves in unexpected romantic situations. Will the end of their holidays, however, also mark the end of their relationships?
The Grinch  


Next up is the famous movie, The Grinch. This is the number one Christmas movie of Zoë El Mhaned. 'I'm tired of the cliché story. You know, the one where the burned-out businesswoman goes back to her hometown, meets the man of her life and stays there', Zoë explains. 'I want a funny movie with an original story and that is the definition of The Grinch.' 

The Grinch was a rather negative person, living in a town called Whoville. He strongly dislikes Christmas, while everyone else in town loves it. His plan is to simply ruin the holiday for everyone else. A little girl called Cindy-Lou does everything in her power to convince the Grinch of the beauty of Christmas.
Elf 
Ella Rouffaer is a huge fan of Elf. When asked what her favourite movie was her answer was: 'Elf because… Elf! It has the funniest jokes and Will Ferrel acts it perfectly. It's a movie everyone should watch this Christmas.' Elf is the story of an orphan who ended up inside Santa's bag and gets taken back to the North Pole. Buddy ends up getting adopted by Papa Elf and is convinced that he is an elf throughout his life. When he learns he is actually human, he becomes curious and decides to escape from his home and discover the world.
ARVE Error: Invalid URL https://www.youtube.com/watch?v=a54yC1etmVc in url

Home Alone 
This is Valentijn Horemans' favorite movie. 'It's pretty well known and I assume a lot of people consider this their favourite Christmas movie', he says. 'For me, it's pure nostalgia. I don't mean Home Alone 2,3,4,5 or 6. I mean the original, old-school Home Alone with Macaulay Culkin.' Kevin McAllister is an eight-year-old kid, with a wish to make his family disappear. When he suddenly gets left behind while his family leaves for the Christmas holiday, his wish seems to come through. He quickly learns how to live on his own, when suddenly two burglars enter his house. Kevin does everything he can to outsmart these criminals.
ARVE Error: Invalid URL https://www.youtube.com/watch?v=jEDaVHmw7r4 in url

Love Actually 
Frank Crab actually loves Love Actually. He says: 'I don't always watch cringe-worthy movies, but when I do it's during Christmas and it's Love Actually. It's a fun way of storytelling and it keeps you interested during the entire movie. I really enjoy it and will be watching it this year.' This is a movie following ten different stories of people looking for love, one month before Christmas. As the movie proceeds, many of the stories turn out to be linked in the craziest ways. The story follows the romances up until the actual holiday. It's known to be a very popular movie during these times.
ARVE Error: Invalid URL https://www.youtube.com/watch?v=H9Z3_ifFheQ in url

Love Hard  
If you're looking for a new Christmas movie Caroline DeMaeyer advises the new Netflix movie Love Hard. 'It's a really fun movie, recently added on Netflix', she says. 'When I think of a Christmas movie I think of a cheerful night on the couch with my family. I saw Love Hard a couple of days ago and really recommend it.' Love Hard is a rom-com about an L.A. girl, who falls in love with someone over a dating app. She impulsively decides to surprise him by flying over to the East Coast. After she arrives she quickly realizes she has been catfished.
ARVE Error: Invalid URL https://www.youtube.com/watch?v=3boMRfx6cjE in url

Harry Potter
Although this isn't considered a Christmas movie, it is a classic for Michael Swerts. 'The iconic Christmas scene in the big dining hall gives me chills', he says. 'It brings back so many memories of watching these movies on the couch with warm milk with my nieces and nephews. We don't watch the movies at Christmas now because we've gotten older and have to interact with others at the dinner table, but we do keep the tradition alive of watching it at home. I think that's adorable and that's why this will always be my favourite Christmas movie.' The highly popular movies follow the story of a young boy, Harry Potter, living with his aunt and uncle after his parents passed away. When Harry turns eleven he discovers his parents were actually well-respected wizards. He learns about his own powers and his role in the magic world, through his school experience at Hogwarts School of Wizardry.
ARVE Error: Invalid URL https://www.youtube.com/watch?v=VyHV0BRtdxo&t=15s in url

Text and image: Charlotte Haemels & Zoë Van Schooten, Final edit: Andrei Stiru