Photo report: Tailoring your own skirt
Crina Pintea, 19, is an advertising student at Babeș-Bolyai University in Romania, who has a passion for designing clothes. In 2019, she managed to take the first step toward realizing her dream by attending a clothing design course.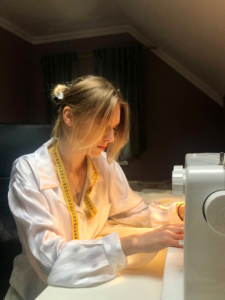 'My mother was an inspiration. She bought me a sewing machine and taught me some basics. Last year, I went to a clothing design class, which included drawing. I decided to give it a try and that's where the real adventure began.'
Today Crina will create a piece of clothing, showing us all the stages you go through. She draws several sketches, choosing the colors, pattern, and size of the clothes.
After drawing the sketches, Crina selects the model of the skirt she wants to make. 'In this part of the process, it is important to already have a final picture in your mind of the skirt you're going to work on,' she says.
After choosing the pattern, the next step is to select the fabric. 'I chose the semi-circular model. Every time you select your skirt model, you have to pay attention to the kind of fabric that goes with it.'
Besides using the sewing machine, Crina has a portfolio with a series of tailoring procedures. In the image, you see the semi-circular skirt.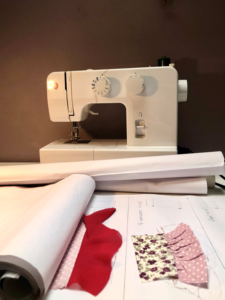 The next procedure is to design and draw the patterns on the graph paper, a step illustrated in the photo above. The pattern represents the graphic shape of the piece of clothing – a sketch. 'Currently, in addition to the classic version of creating patterns, there are three-dimensional alternatives, making the sketch on mannequins or in digital format. So far, the old school version is my favorite,' says Crina.
'After drawing the patterns on the graph, we apply a transparent sheet of paper to the graph paper, so we can cut the previously drawn designs. In this way, we will have the new temporary models that will help us to weave the skirt', Crina mentions.
The patterns are placed on the chosen material, cutting the fabric according to its shape. 'This process is called tailoring,' says Crina.
Crina cuts the fabric she chose. This is a meticulous process that requires a lot of attention and focus. 'It can go wrong easily if you don't pay enough attention.'
After cutting the fabric, the pieces are put together and untwisted. They are sewed with temporary stitches. 'It's one of my favorite stages – the newly chosen pieces of material are finally getting some shape.'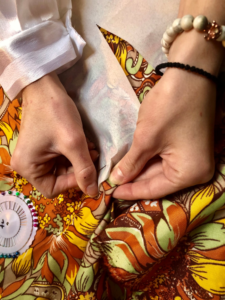 The next step is to turn on the sewing machine and perform the last procedure – the final sewing of the pieces that were already in temporary stitches.
Crina focuses on the pieces, making the last technical touches on the garment.
After following all the previous shown steps, the semi-circular skirt is now done.
Currently, Crina wants to create her own clothing collection. 'I dream of expanding my clothing collection. I admit, it takes a lot of work, but a little courage and passion for what I do will get me where I want.'
Text: Laurentia Jora & Manon Botterblom, final editor: Andrei Stiru
Photos: © Laurentia Jora © Manon Botterblom