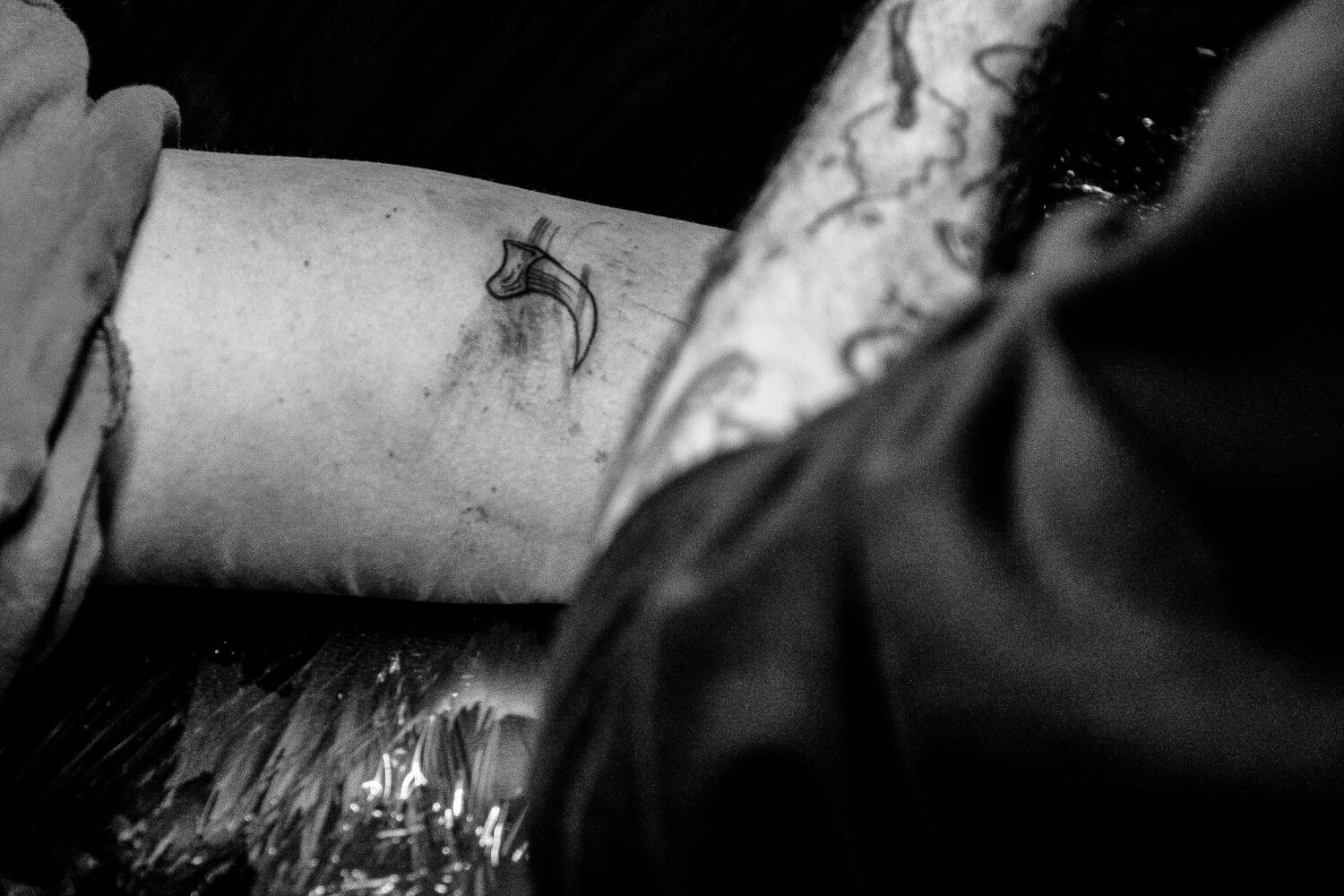 PHOTO REPORTAGE – A look inside a tattoo shop
The earliest example of tattooing was found in 3300 B.C. but it's said to have started far before that. To this day tattooing is a popular and important part of our culture and identity. Getting a tattoo is more common than ever, but what exactly goes down inside of such a mysterious tattoo shop?

The outside of a tattoo shop, Time & Triumph, based in Antwerp. The shop is known for its great artworks and kind people, which quickly became clear even before stepping foot into it.

First off, you come inside and explain the idea or vision you have. If you are lucky, they will immediately tattoo you. Just ask if they do walk-ins or not, though this shop usually does. We were in luck and were allowed to come back in two hours to look at the design.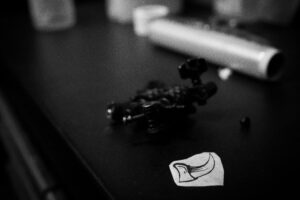 After waiting for a while, the artist showed his design and asked if anything had to be modified. Again, with the same kindness and care. The size was adjusted and he was ready to put the stencil on.

Hygiene is a crucial part of tattooing and was taken very seriously in this shop. They shave the spot and make sure the dead skin comes off before sanitizing it and putting the stencil on.

The artwork all over the wall, the music, the artists. It all just made sense.

The stencil is placed wherever you want it and can easily be adjusted. This was the case, as it was a little too low. "No problem, don't want you ending up with anything you'll regret", Skinny Sid, the artist, scoffed.

After adjusting its placement, it was finally time to start.

He began tattooing with the nonchalance and skill that makes you trust him with your life. Perfectly straight lines? No problem. Curves and detailing? No problem either. It became clear that he was a very talented man and knew exactly what he was doing.

"I've been tattooing nonstop for 9 hours today.", Sid explained. By the looks of his trashcan, it was obvious that he wasn't kidding.

Many artists are fully tatted and he was no different. Every visible spot of his body was filled with beautiful pieces of art.

Some of his earlier art was displayed in his work area, lots of creative designs were seen.

The tattoo was almost done. He consistently asked whether everything was alright and always made sure his customers were comfortable.

The finished product was there. He seemed content but was still flattered to hear a happy client say the words "I love it even more than I thought I would".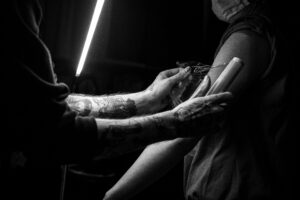 The last step is wrapping it up so that bacteria won't come into your skin and your tattoo won't stain all over your clothes. A clear explanation on aftercare follows and after paying, we were free to go.
Text: Charlie Haemels, final editor: Zoë Van Schooten
Photo: Charlie Haemels