The impossible decision between staying and leaving
Chris never intended to leave his homeland.
Christ Youssef Madoyan (who prefers to go by Chris because of always having to explain why his name is not pronounced in the way Jesus Christ is) is a 27 year old Syrian refugee who has been in Belgium for three and a half years. Currently, he is completing his Bachelors in Business Economics at the Vrije Universiteit Brussel.
He had one more year to go before graduating with a bachelors in Banking and Insurance, he had many friends, a great church in which he was an active member, dreams and plans for his future and, most importantly, Syria was his home. At least until his father was killed in a terrorist attack, it was made clear that Chris and others like him were not welcome, and Chris's deferral got rejected which would have exempted him from mandatory military service during the war.
Why not just leave?
His reluctance to leave Syria was partially due to his area being generally safe as it was controlled by the Kurdish Militia, which in itself does not bring safety but they fought against ISIS which led to Chris's city never being invaded by them. There were many terrorist attacks, but Chris said that people get used to that. There was also the fact that back then, the regime portrayed itself as a protector of Christian minorities, mostly because these minorities tended to be more educated in the sense of having more people with university degrees. He was in a small community, and these communities looked after one another. However, today there are fewer and fewer minorities due to the war and a clear push to get Christians to leave. Especially in rural areas where ISIS took control or, as in the case of Chris's town, other Malicious groups were active.
Chris grew up in a small town called Qamishly, which is close to the Turkish border. There he went to a private Armenian school and graduated from high school. In 2012 he went on to study for a bachelors in Banking and Insurance, which ultimately he was unable to complete. When Chris was in his last year, pressure to join either the army of the regime or the Kurdish Militia increased. As he did not share the values or ideologies of either, Chris had no desire to join them. Joining the army was compulsory, however, those studying at university were exempted from this rule, which led to both the regime and the Kurdish Militia making it increasingly difficult to study. To get to his university town where he studied at Alfurat University, he had to go through multiple Kurdish checkpoints. To avoid getting recruited, Chris applied for a deferral, which was an arrangement to defer or delay the recruiting of men who were studying, at least until they graduated. However, the process to apply for said deferral was a difficult, time consuming, and often humiliating experience.
During this time, ISIS invaded his university and the following period Chris and other students there had to endure violent hate speech. Russian and Arabic religious texts and hateful statements were painted on the walls and the message that 'we came with killing (or to kill)' was repeated many times in the texts. The breaking point was the murder of his father, which came as a sudden and devastating shock to Chris and his family. He decided to change universities and go study in Damascus, which he never completed because he got the opportunity to leave and go to Belgium.
Chris admitted that if his father hadn't been killed, leaving Syria would not have been an option. However, when the message that day was so clear, he knew he had to go.
'He was playing cards at a café with his friends.' Chris began recalling the day he lost his father. 'These cafes are very male-dominant. It's a cultural thing where men go and drink tea and play cards. This café and another restaurant were targeted on the 30th of December 2015. It was a clear message as both locations were in a Christian area. My dad was among 14 who died, 13 of which were Christians. It was a year Christians celebrated Christmas as well. People were gaining their confidence again since the beginning of the war and there were a lot of celebrations. It was very traumatic and sudden.
'In war, you never think it will happen to you as it's always happening around you so it's shocking when it does hit you.'
The open door
Chris's opportunity to get out of Syria came via his brother-in-law who, along with Chris's sister and brother, were already in Belgium. His brother-in-law heard of the programme of Theo Franken in which the Ministry of Immigration cooperated with Christian NGO's to bring over Christians out of Syria. Although this later became a topic of controversy, it was how Chris got his ticket out of Syria. He left on March 13 2018 and spent one and a half months in Lebanon waiting for his Visa. Once he got it, he was held back in Turkey which is a story he told with a laugh. The Turkish officials thought his Visa was fake, and after all that Chris had endured, he couldn't help but surrender the rest to God. He remembers praying and telling God that although he would not want to join the military, which he would have to if he was sent back, he wanted to leave it in God's hands. Twenty minutes later, he was told that his Visa checked out and he was set to leave on the first flight the next day.
Today, over three years later, Chris is here in Belgium. Although he does struggle with survivor's guilt and the knowledge that he has friends and family who need to calculate before every purchase while he can buy almost anything he wants at the supermarket. He also misses his country and the people and might have to miss the wedding of his friend who has asked him to be the best man. Nonetheless, Chris doesn't think he will be returning soon. Firstly, until he obtains citizenship, he is unable to return to Syria or even go to the Syrian embassy here in Belgium. Secondly, he saw what difficult decisions Belgium had to make regarding the citizens in Afghanistan and does not want to be the object of such difficult decisions should he be trapped in Syria.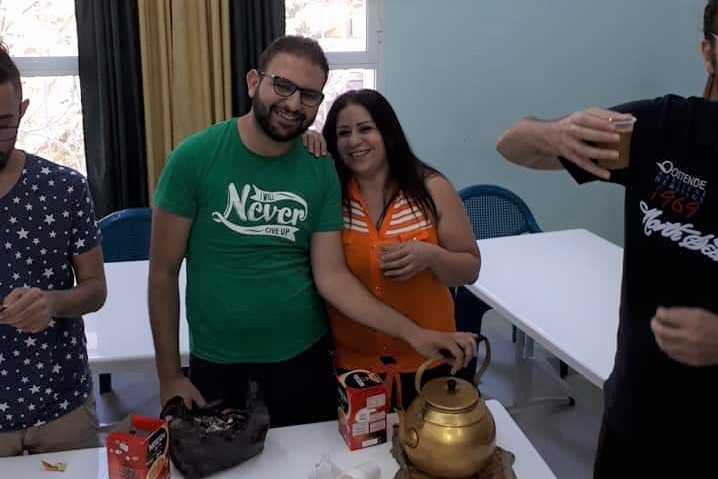 His resolution not to return is strengthened by his feelings towards the government which made headlines when they promised change and appealed to refugees to go back home. 'They promise things will improve but it's all just talk. It's repulsive when I hear it, they can't even take care of the many people who are in Syria right now. They are not allowing rebuilding in areas that were against them, but they are saying those who fled are safe. It's nonsense and that's all I can honestly say about it.'
How does hope prevail?
Speaking to Chris, it is anything but apparent that he has been through very difficult circumstances. He said the reason for this is multi-layered, starting with his faith. He was open about his struggles with God at times, and how he wasn't someone who was blindly following but admitted that even then, there was hope. Another layer was that he decided not to allow the victim mentality to take control, although some days have been tougher than others. He knows grief is normal and is necessary to heal, but he makes sure to never stay there. Lastly, he mentioned how important community has been here in Belgium, whether through the people at his Church, Antwerp Christian Fellowship, or the locals in his area.
'And knowing that Jesus went through it all made such a difference. Knowing life is not fair and deciding every day to live it fully. There are some days where grief does come, that's normal. but I decide not to live in the past.'
Author: Danica Van der Merwe, Final editor: Jana Huysmans
Photos: Christ Youssef Madoyan