21bis-tv: undercoverjournalistiek met Joppe Nuyts, kinderwens met studenten Axelle en Maya en muziek met Nisrine, ex-kandidate The Voice
Onderzoeksjournalist Joppe Nuyts die undercover ging bij koeriersbedrijf PostNL praat over undercoverjournalistiek. Studenten journalistiek Axelle Smets en Maya Teughels hebben een open gesprek over hun kinderwens naar aanleiding van Moederdag. Als afsluiter: Nisrine uit The Voice van Vlaanderen brengt haar nieuwe single Too Late. Dit en veel meer in deze uitzending van 21bis-tv.
Kijk hieronder naar de uitzending:
De eerste vrouwelijke undercoverjournalist Nellie Bly is ondertussen honderd jaar overleden. Een mooie aanleiding voor onderzoeksjournalist Joppe Nuyts om te praten over undercoverjournalistiek. VRT-journalist Bram Van Deputte legt uit hoe cookies werken. En omdat het bijna Moederdag is, hebben studenten Journalistiek Axelle Smets en Maya Teughels het over hun kinderwens. Equicoach Ann Broeckx legt uit hoe equicoaching, ook wel paardentherapie genoemd, werkt. Als afsluiter komt Nisrine, ex-deelneemster van The Voice van Vlaanderen, haar nieuwe single Too Late brengen.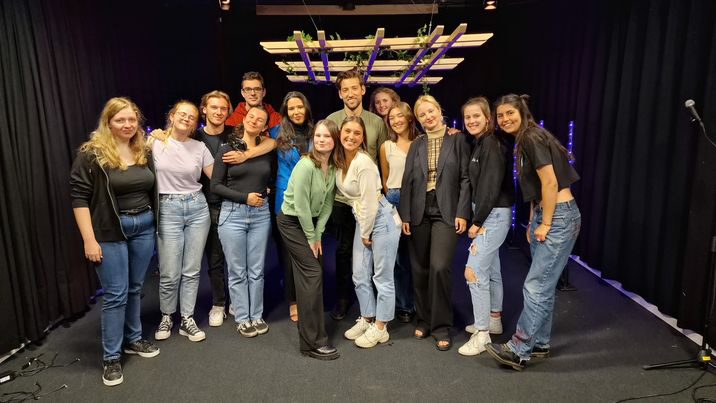 Presentatie: Kayla Ceulemans
Programmamedewerkers: Merel Vernaeve, Mila Franck, Moana Martinho Hortas, Cynthia Verbrugge, Joana Rebelo, Seth Van der Slycken, Yannick Van der Weyden, Mikaela Pimentel en Isabeau Averhals
Tekst: Cynthia Verbrugge, Kayla Ceulemans
Foto van de crew: © Valentijn Horemans