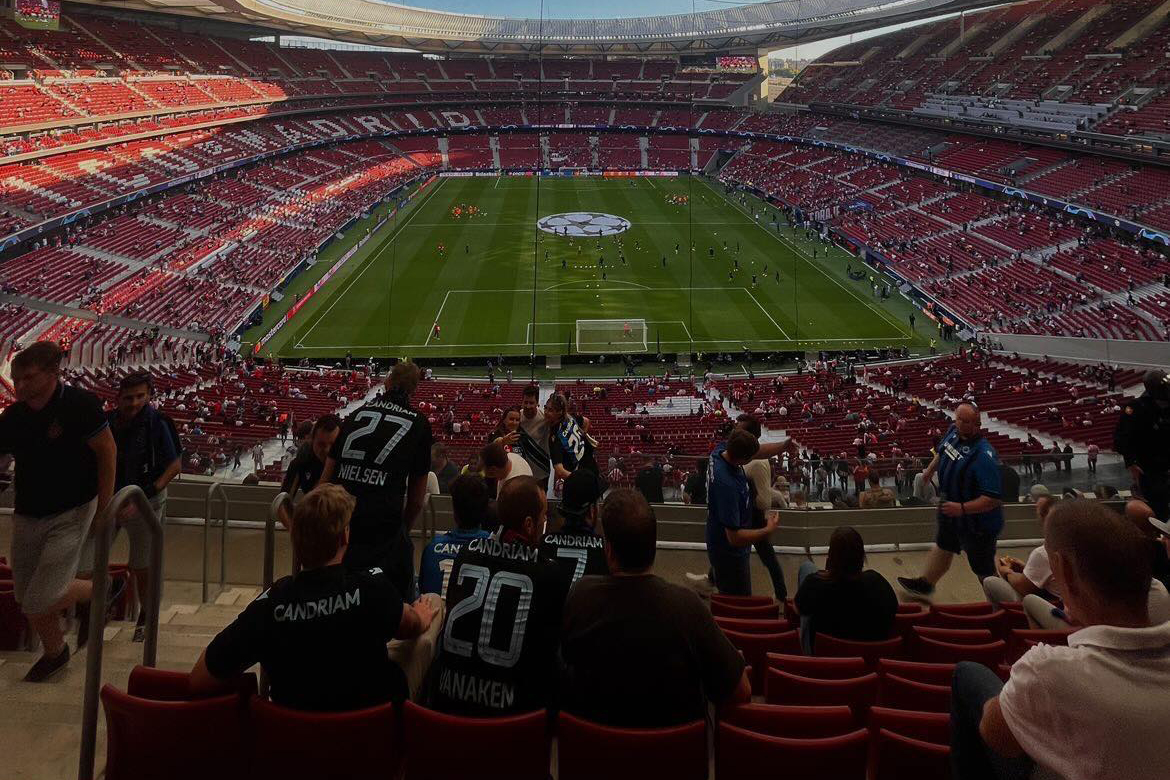 Club Brugge qualifies for next round in Champions League: 'This might be the best team we've ever had'
Belgian football team Club Brugge has reached the next stage in the Champions League. A historic qualification for the Belgian champions as it is the first time in the club's history. The hero afterward was the Belgian goalkeeper, and fan favorite, Simon Mignolet. 'He was outstanding'
After a draw (0-0) against Spanish team Atletico Madrid, Brugge secured a spot in the next stage of the Champions League. They are currently in a group stage together with Atletico Madrid (Spain), Bayer Leverkussen (Germany) and FC Porto (Portugal) and managed to get ten out of twelve points in their first four games. The two best teams of each group advance to the next round, which is called the round of 16. With two more games to play in the group stage, Brugge is already certain of that round as they can't drop to third place anymore with ten points.
The qualification is a historic event for the Belgian champions, but fans already had some hope that their favorite team would qualify. 'I definitely thought there would be a possibility to advance to the next round. The past couple of years we had bad luck to be in a group with top teams such as the Spanish club Real Madrid (2019) and the English team Manchester City (2021). We felt there were more possibilities this year with a weaker group compared to the last couple of years,' says longtime fan Timon Ingels (19).
Dit bericht op Instagram bekijken
Heroic saves by Simon Mignolet
After the game, lots of attention went to Belgian goalie Simon Mignolet. With a strong performance, he played a big part in Brugge's important draw against Spanish side Atletico Madrid. 'He was absolutely outstanding. I've seen articles from Spanish and French media as well on how good he was. He definitely played a big part in our qualification,' adds Club Brugge-fan Nick Alençon (20). But Nick wants to give credit to the whole team. 'We have a very strong selection of players this year. I think this might be the best team we have ever had.'
Timon also saw an impressive game from Mignolet. 'Atletico Madrid deserved to score a goal, but Mignolet was just unstoppable. He definitely deserves to be the man of the match.' But Timon also gives credit to their Spanish striker Ferran Jutgla. 'He is the perfect striker for Club Brugge and has already made some important goals for us. I think the whole team is just very good and made the qualification possible.'
Next round
Now that the Belgians have guaranteed a spot in the next round, supporters already start thinking about what will happen next. The next round will be with the best two teams of each group. 'I hope we don't have to play against world-class teams like Manchester City, but a more realistic opponent like the Italian team Napoli. It's definitely not a weak team, but chances are higher to win against them than against Manchester City. I just hope Brugge goes as far as possible. But no one will be disappointed if we lose the next round. Club has already performed above expectations,' concludes Nick.
Text: Lukas Emmerechts, final editing: Marlies Geyskens
Picture: © Nick Alençon