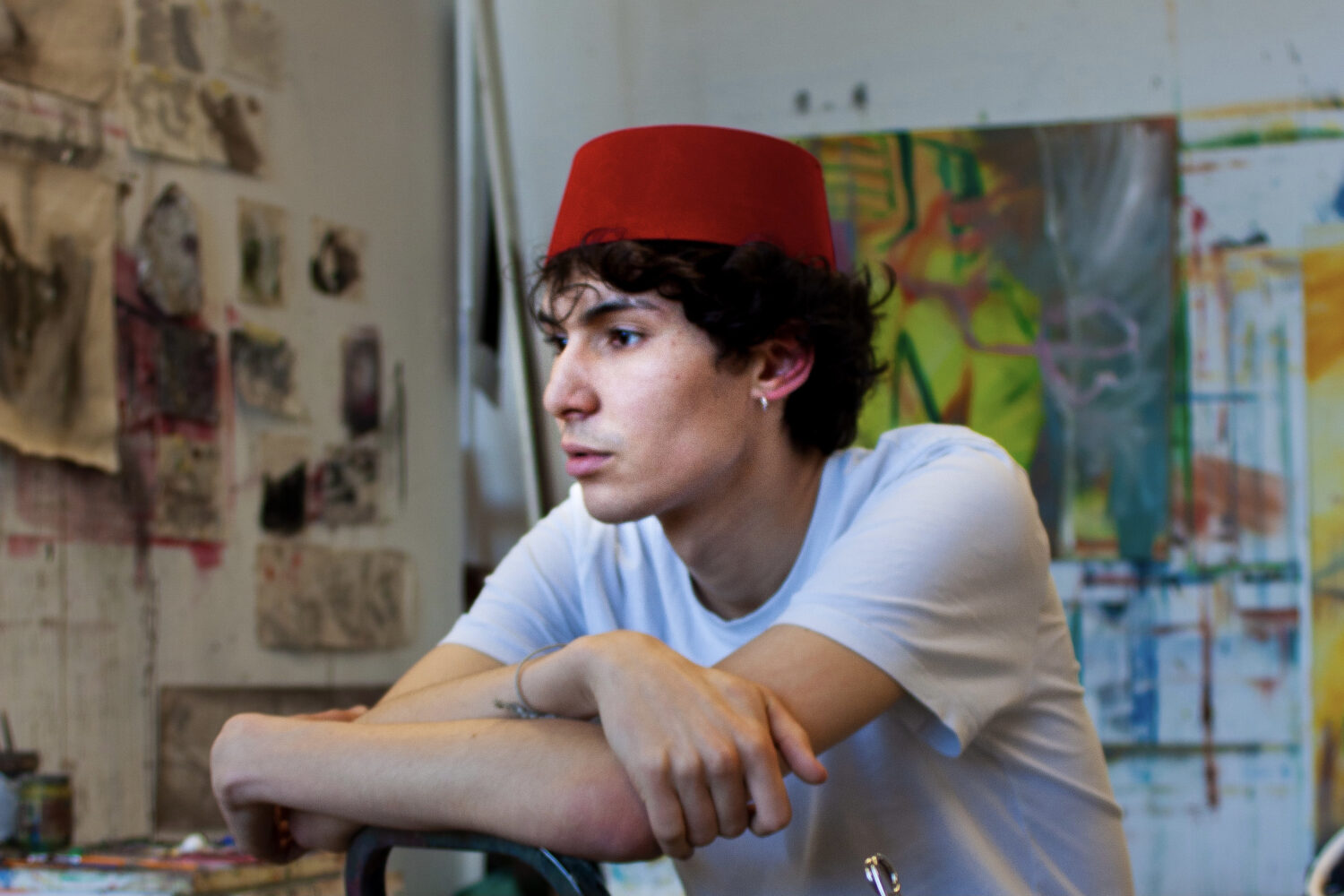 ARTISTS OF MECHELEN – Khalil Chaouki: 'I wake up and have to paint'
2O-year-old Khalil Chaouki is an aspiring artist. Growing up in Mechelen and now studying in Ghent he gets inspired by anything he sees, hears or thinks. The artist surprisingly does not use social media to share his art. He much rather talks to people about it. The process of getting his ideas onto his canvas is the most important to him. His trusted sketchbooks are his way to make his thoughts come to life on the canvas.
Khalil Chaouki lives and breathes art. His artist name is his own: Khalil Chaouki. He says that his mom has always told him that it means best friend in Arabic. He is always drawing in one of his sketchbooks, on the train, on the road, even when he is eating. His works starts from those drawings that he calls a subconscious part of him. Chaouki gets inspired by what he sees, what he does or what he thinks of. He selects a couple of images that the painter finds interesting and he combines those until he ends up with something that he wants to show the rest of the world on his canvas.

Listen to Khalil explaining his work process:
'The sketchbooks are an intimate place -it is just me and the book- nobody else, no eyes'

The painter is all consumed by his work. Listen to his point of view:
'Where we work it is really open and everyone can see you and your work. You are exposed, naked'
The young painter has always been in touch with art, whether it was going to the academy when he was six or playing the guitar. Chaouki was never conscious about it, it was not until three years ago that he really knew that he wanted to pursue art consciously.
'Before It was always something that I liked doing without thinking, now every choice is a conscious one'


Chaouki about his early memories which are filled with art:

Khalil Chaouki recalls always being fascinated with animation movies:
The work of the young artist has a lot of emotion in it, he describes it as minimalistic and insecure. Chaouki claims his paintings are true to what a painting is to him and to who he is as a painter.

Chaouki's thoughts on finishing a piece:
'Most colours are grey-ish but that was an evolution. It just kind of happened that one day red became red-ish and yellow became yellow-ish'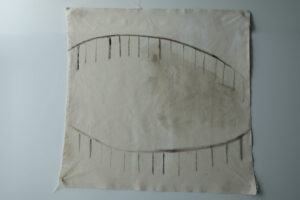 The painter on his new use of colour:
Khalil Chaouki describes himself as a learner who is determined about what he wants to do. Someone who loves what he is doing right now and someone who is getting more and more obsessed with the idea of being a painter.
'Every year, every month and every day I am getting more comfortable with the idea of becoming an artist'
He explains it to be scary because it is a name that you put on yourself, which he describes to be a bit weird. The more that he grows into this role of being an artist, it is starting to feel more natural to him.
Unlike most aspiring artists of his age, Khalil Chaouki does not share his art via social media. Instead he likes to take every opportunity to meet people and talk about his work.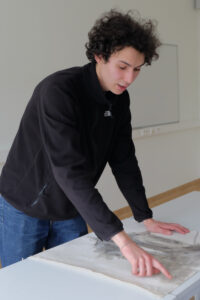 The painter on his role in the art world:
Chaouki dreams big. One day he would like to have an exposition in places like Pompidou and Bozar.
'I am an artist in becoming, I don't think I'm ready to call myself an artist yet. There should be a little more evolution'
Khalil Chaouki will know when the time comes.


Interview: Stella Delée, Sofia Dimitrova, Patrick Paldanius
Text: Stella Delée
Photo's: ©Stella Delée
Featured image: ©Jolien Dewaele