ARTISTS OF MECHELEN – Sam Thys: 'I can make a thousand pictures of a tree branch, and with every shot, I see something new'
Sam Thys (27) is a photography student in his final year at the SINT LUCAS ART SCHOOL in Antwerp. Three years ago he got diagnosed with autism, which made his life more logical to him. Now he shows everyone how he sees the world through his photography. 
In Sint-Niklaas you can find Thys' first duo-exhibition with Wout van Ackere, '(Un)Distorted by Nature', the connection between humans and nature. Sam finds the connection throughout combining man-made and capturing nature phenomena with the use of filters on his photos. His work is kind of surrealistic with lots of movement. He tries to make his exhibitions interactive, in that way people stand still by his work and be intrigued. He uses plastic to print his photo on, this is the connection between man-made with the plastic and nature, what is captured on the pictures.  'If you just take a picture of the sky with the trees, it becomes very graphical with the light coming through. I can make a thousand pictures of that and every single time I see something new.'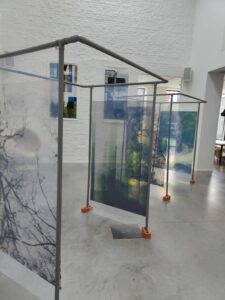 In Thys his work there aren't any humans. According to him this is due to his awkwardness. He is totally comfortable when it's just his camera and himself in nature. In his exhibition he made the connection between humans and nature. 'When you experiment it's always man-made stuff, like the filters on Photoshop. The photos are made in nature, but you need a way to present it. Therefore I use things like plastic canvas to make a contrast.'
Mental Health
'In the beginning I didn't understand myself; why I was always overthinking, why I was different than anyone else. When I got diagnosed with autism it cleared some things up; I could start recognizing my own behavior and find a way to handle those situations.' His photos show the world how he sees it. When Thys goes outside he gets a lot of impressions and photography can help him to show that it is a lot for him.
Mental health is the main inspiration for Thys' art. 'I start with how I'm feeling and what bothers me. I translate that into my art, to develop more feeling into my work than just recreating things.' He began experimenting with filters, which he really liked. The texture on the filters – different textures in nature and developing it as a filter – really comforts him, especially. 'I've never seen this style of photography before and then I realized: this is me.'
Besides his own transformation, he can also feel that others understand him. By putting his feelings into his art, his mom started to comprehend what he meant. 'Before the diagnosis we were just two separate people living in the same house. But with my transformation, my mom also changed, which is the nicest feeling.' With his art he tries to make feelings visible for others. 'Some people have the same struggle, I try to help them with those feelings through photos.. For me, I do reflections all the time by trying to get rid of bad feelings.' 
Future plans 
Mechelen was Thys' first move, after living in Antwerp his whole life. He likes Mechelen for its nature, because it's omnipresent here. It also made him more open-minded and challenged to take risks, something he is going to take with him for the rest of his life. 'A new environment gives me more inspiration. My big goal is to travel around the world with a self-built van.' He would also like being a teacher in the future, possibly, because he wants outcasts to have an opportunity at expressing themselves instead of being shut down. Before his world trip, he would like some exhibitions in Mechelen, a little close to home than Sint-Niklaas. 
Dit bericht op Instagram bekijken
Text: Lotte van den Hout, Josephine Hanna & Ioana Zaharie-Iosif
Photo: © Sander Buekers