ARTISTS OF MECHELEN – Ukrainian painter Natalia Latysh: 'When the war started, my art was a little depressing, now it is colorful and positive'
Mechelen is a diverse city of artists. Natalia Latysh is one of the artists located in this Flemish art city. In 2022, when the war in Ukraine started, she fled her home country and brought her art to Mechelen. She teaches people to put their feelings into art. 'I can see people that have never painted before come to my workshops and make their own beautiful works.'
Listen to Natalia introducing herself:
Natalia became an artist at a very young age. She started her own small company in advertising and graphic design with a colleague from her former work when she was 18 years old. 'After 10 years I decided that I wanted to show more sensitivity, life and expression in my work, so I started to paint and follow some courses about art. I finished an art education and after a few years I opened my own art studio in Poltava' (Northeastern Ukraine, editor's note).
The war in Ukraine changed the lives of many people. In total 63.356 people fled to Belgium, looking for a safe place. Natalia came here with her mother and sister, her husband stayed behind because of the war. As an artist Natalia tried to continue with her work. 'When the war started my art was a little depressing. It was a really hard situation, there was no light in the city, so sometimes I even tried to draw with candles. My art helped me through this time, and when I came to Belgium it became more colorful and positive.'
Natalia talks about the workshops she gives in Mechelen:

Listen to the story behind this painting:
This is the biblical verse Natalia refers to: (John 1:1:3) 1: In the beginning was the word, and the word was with god, and the word was god. 2: He was with God in the beginning. 3: Through him all things were made; without him nothing was made that had been made.

Natalia explains why this painting means a lot to her:
Fluid art is an abstract painting technique which involves the free flowing of acrylic arts or powdered pigments for inks. It is a very emotional technique.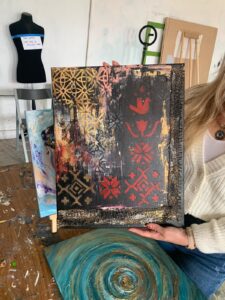 This final painting has a Ukrainian message:
Text: Kim Van Den Berg & Bastiaan Bellens
Audio: Bastiaan Bellens & Miikka Yla-Jussila
Photos: © Kim Van Den Berg