ARTISTS OF MECHELEN – Sculpting a path to fame: 'The story of Mariette Teugels' passion and perseverance
Mariette Teugels (87) is a portraitist from Mechelen who made sculptures of famous people, animals and plants. Mariette lives in her historical building in Mechelen that's called 'de Cellekens'. She and her husband of 67 years had been looking for a suitable place when they found and bought the place many years ago. The history of her artistic journey will amaze you.
Mariette got her diploma in her thirties to become a professional portraitist in the art academy school in Mechelen. She used to make portraits of important people such as mayor Janssens and a famous ballerina Isadora Duncan. She also managed to do portraits of her grandchild who happened to join us in the picture.
"I needed to start doing art in order to be satisfied with myself"
Mariette never had the intention to be famous and to be known internationally. She followed her passion and it brought her to where she is now, she said. It was a difficult move for a woman in her thirties to become an artist but she did it with a lot of support: "My parents and my husband have always supported me", says Mariette. 
Texas revolution
Mariette told us about her experience which she called the 'Texas revolution'. She had a big exhibition in a conservative place in Texas, USA. The expedition was a big thing and it was all over the newspapers. Mariette's sculptures contain naked people. The citizens in Texas were conservative and did not like the naked sculptures. A small group of people started a protest about the nudity of the sculptures. But in the end for Mariette, it was all a success.
"A sculpture takes a lot of work and I am very precise when it comes to my work."
De Cellekens
Making sculptures is really physical and requires long nerves from both the sculptures and the one who has to sit still. Mariette is precise in her work. The models needed to sit still for quite a while in order for her to capture all the smallest details and gestures. Mariette did her last sculptures five years ago. Her age has taken over after that. Her sight is not as good as it used to be and she needs to lay down for a nap every now and then. She made all of her sculptures in her studio 'de Cellekens'.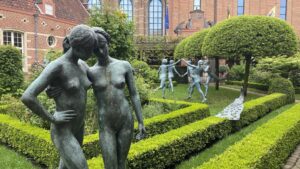 The Cellekens is from 1815, it's located in the center of Mechelen and its purpose was to support the women without families, free of charge. Each door had access to two small rooms with a bed, cupboard, chair and table. The institution owes its name to these small 'cells', so the name of the building is now called 'De Cellekens'. 
After Mariette and her husband had bought the building they started to restore it. During eight years of restoration they opened up the cells into a more open space. Now you can walk around inside of the U-shaped house and get outside of all the many arched doors. The soulful building got the chance to continue its history as a center of art and culture. They even got awarded with the Europa Nostra Prize for their restoration of the building. 
The building is recognized as European cultural history. Beautiful location. Interesting history. The building used to serve as a gathering place and it was sometimes open for visitors and local politics. Now the building is no longer open for visitors.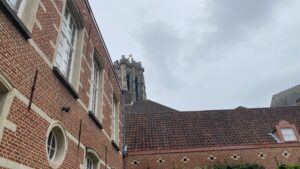 Authors: Oumaima el Harchi, Georgiana Grigoras and Maijastiina Hannonen
text: Oumaima el Harchi, Georgiana Grigoras and Maijastiina Hannonen
Pictures: © Oumaima El Harchi, Georgiana Grigoras and Maijastiina Hannonen