(Re)allocation Berlin: A different view on Prussian history in a small museum
NEUKÖLLN – Past the Karl-Marx-Strasse there's an old school building that currently houses a museum. This museum uses a personal approach, it tells the story of the local Bohemian community in the 18th century. If you walk further for ten minutes you arrive in a completely different world, a world in which nightclub SchwuZ plays a big part. This nightclub settled in an old KINDL-brewery with authentic elements.
The museum Im Böhmischen Dorf exists out of two rooms that hold lots of different items stemming from the 18th century. From clothes till the predecessor of the world-famous game UNO.
Archive master Stefan Butt tells about his favourite item there, a painting of Jesus hanging from the cross that used to be displayed in a protestant church. Protestant churches usually don't show images, but this painting has a special meaning to the villagers. During the second World War the church got destroyed, but the painting got preserved.
The old school building was built in 1737 and officially opened as a museum on the 18th of September in 2005. You can choose for a guided tour, or opt for a solo one. If you happen to be somewhere near Neukölln, it's definitely worth a visit.
The museum is open every Thursday between 2 p.m. and 5 p.m. and every first and third Sunday of the month between 12 p.m. and 2 p.m.
Entrance fee is 3 euros.
Germany's oldest queer nightclub
If you walk 10 minutes further, you'll end up at the oldest still-existing queer nightclub SchwuZ in Germany. It was founded in 1977 after a couple of drag queens were infuriated with the fact that they didn't have a safe space to go to. Now it's a must in the LGBTQ+ scene in Berlin. At night this place comes to live and oozes positive energy.
Throughout the years lots of big international acts have visited and performed in the club; stars like Boy George, Blondie and Conchita Wurst have graced the stage. Each one of these celebrities have signed a heel, these then get collected in a big glass box. Once the box is full they get auctioned off and all proceeds go to a charity that takes care of HIV-patients.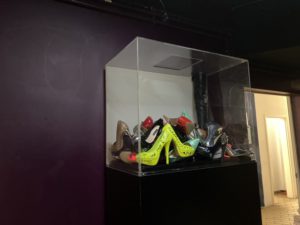 'Everyone with good intentions is welcome here'
SchwuZ is an all-left, all-inclusive organisation that doesn't allow any form of discrimination. They offer a safe space for those in need. Quarterly events for queer refugees take place here as well. There are no gendered toilets, gender is but a social construct according to them. PR manager Paul Schulz told us more about the nightlife where everyone with a positive vibe is welcome.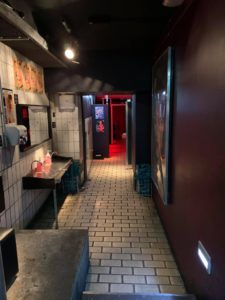 Even people that can't really afford to go out, get a chance to have fun at SchwuZ. They hand out free tickets to those in need.
An all-inclusive club in an old brewery
In 2013 SchwuZ settled in the old KINDL-brewery, after they moved here they invested in the building to make it as accessible as possible for everyone. Wheelchair users are able to get wherever they need to be without any trouble.
One of the bars is designed by the same people that designed the Jewish Museum. Hiring people of different backgrounds is also a big part of the organisation being as inclusive as possible.
The club has about 100 employees and every single employee gets a fair wage. The main focus never has been to make profit. They do get by with a lot of volunteering as well. A lot of people really stand behind this organisation. 
Just like in Belgium, the German public life got put on hold due to the coronavirus. Once everything turns back to normal, be sure to visit SchwuZ if you want to experience a killer party. Since they are a fairly small organisation and their main goal isn't to make profit, they started a fundraiser to try and survive the upcoming months and make sure they're able to continue their work after the lockdown.
Corona-update: Museum Im Böhmischen Dorf and nightclub SchwuZ are temporarily closed. SchwuZ currently gives online livestream sessions on Facebook. 
More places in Neukölln
Do you want to discover more unique places in Neukölln? Then this storymap can help you.
Reportage, text and pictures: © Lene Hosten & Shellsea Bosmans