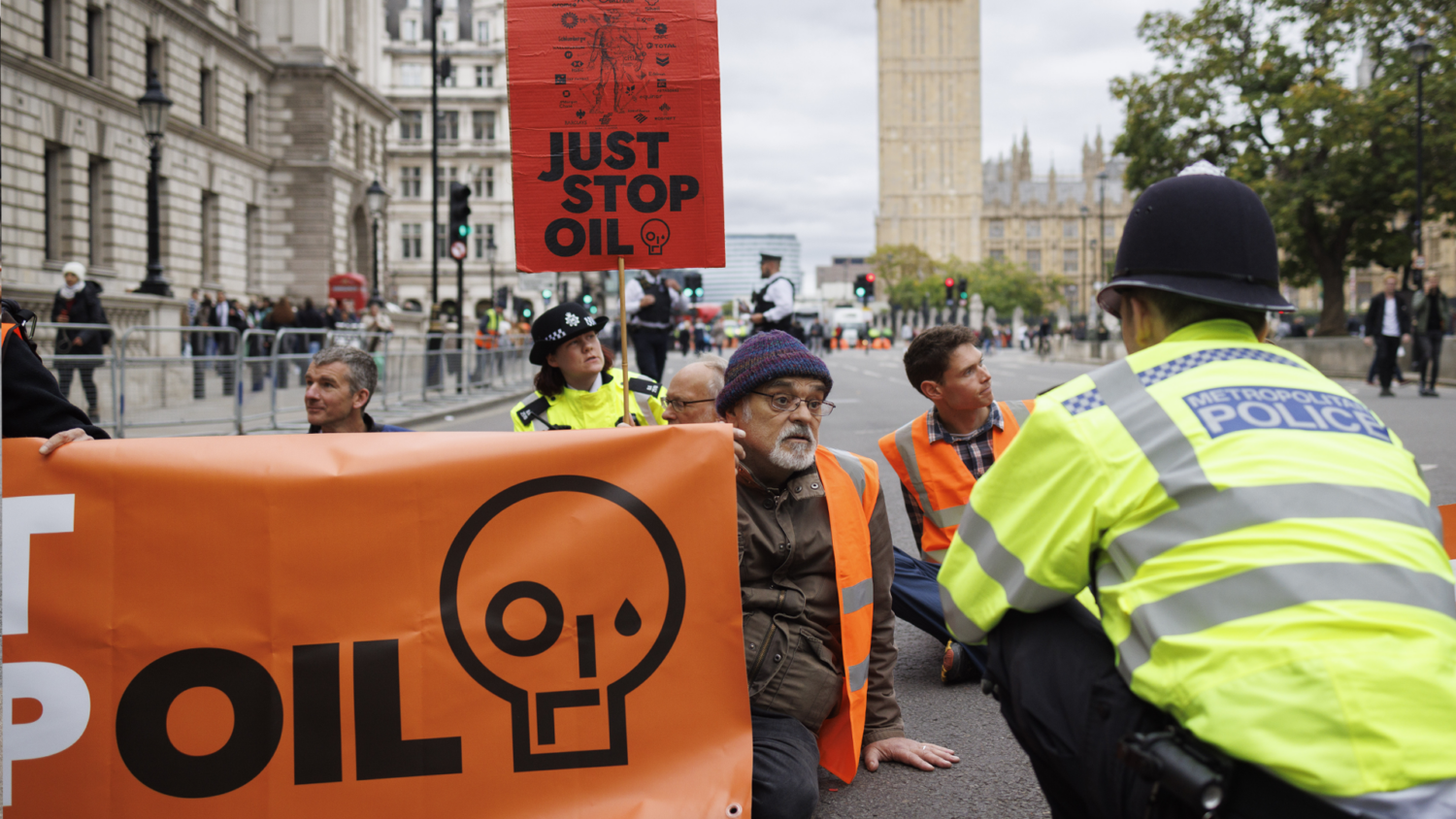 'Undermining your own cause': Just Stop Oil radical action gets condemned
Throwing tomato soup on Van Gogh's painting, disrupting traffic in central London, spray-painting retail stores, climbing up the bridge and causing it to close… these are just some of the actions Just Stop Oil activists took in the last few days to demand the end of all oil and gas projects in the UK. While some disapprove of the activists' ways of bringing attention to environmental issues, others suspect that the Just Stop Oil movement is created by big oil companies to turn the public against climate activists.
'Are you more concerned about the protection of a painting or the protection of our planet and people?', exclaimed one of the Just Stop Oil activists after throwing a tomato soup on Van Gogh's Sunflowers and gluing herself to the wall beneath at National Gallery in London on 14 October. The action accompanied by 'Oh my gosh!' grasps and calls for security did not, however, bring any harm to the famous post-impressionist masterpiece apart from minor frame damage.
Activists under fire
While throwing soup on a painting to scream about environmental issues might seem far-fetched, what the activists did was emphasize how concerned the people are about the destruction of art and how blind they are to the destruction of the planet. While radical actions bought protesters a big media coverage, many condemned their methods:
This is wrong

You are not bringing people to your side through actions like this. You're undermining your own cause

A new strategy required before you do real damage to future protests, as I can see actions like this giving the govt the green light to crackdown on protesting

— SPGall (@CoysPatrick) October 14, 2022
Cato Waterloos, a Ph.D. activism researcher at Ghent University, thinks that it's not right to link the actions of a particular subgroup to a general movement. 'It's more important to look at the issue itself rather than the people who have been acting on the issue. Political action has become more individualistic throughout the years. But I think there's a risk because people are not so nuanced in it and news media choose to cover these acts in relation to a climate movement in general. People have a natural reflex of thinking in small boxes and putting them all together', she says.
What do they want?
This performative protest is just one of the actions taken by Just Stop Oil activists as a part of a campaign against gas and oil development that began in October. Earlier this month Liz Truss, the UK prime minister, announced the opening of new North Sea oil and gas licenses to boost domestic energy production in the UK and tackle the gas crisis without relying on 'authoritarian regimes', particularly Russia.
Just Stop Oil activists claim that they will not stop taking action unless the UK government makes a statement saying that it 'commits to ending all new licenses and consents for the exploration, development and production of fossil fuels in the UK'. The activists suggest the government rely on renewable energy sources rather than fossil fuels.
'Radical action ruins the message'
Students, in general, speak against using extreme ways of protesting. 'You are hurting the museum and not giving the message to the people. I would say other ways of protesting are more effective than throwing soup because I think it will be more seen as funny and the message will not be heard', says Yassine Hadaoui, Cybersecurity student at Thomas More University. Yassine's classmate, Hassan Balti, says that the protesters who are disrupting the traffic and damaging masterpieces fail to think about others: 'it ruins the entire value, the message. Maybe the painting is something meaningful for somebody else and they are ruining the emotions of the people'.
Some of the students, however, assume that the radical methods are protesters' desperate cry for help. 'I do understand that they feel the need to go to those measures cause nothing's really changing', says Selene Majed, a Business for events student at Thomas More University. Her classmates, Caroline Florus and Tomislav Hrastic, both agree that extreme protesting only sheds a negative light on the activists. 'The public will be asking themselves: how are we supposed to have a conversation with people who use these kinds of ways to protest?', added Caroline.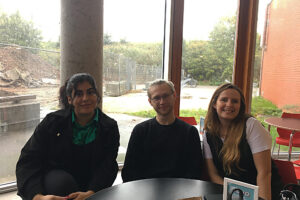 Is the movement even real?
While Just Stop Oil activists receive lots of backlash online, some media users came up with a conspiracy theory that the whole movement was faked by big oil companies to discredit climate activists by making performative and ineffective actions. Since the beginning of October, Just Stop Oil got a lot of negative media coverage for disrupting the traffic and taking destructive actions. Climate Emergency Fund, established by Aileen Getty, provides the majority of funding for Just Stop Oil. What social media users found quite suspicious, is that The Getty family are huge oil business tycoons with a combined net worth of billions of dollars.
So it turns out the group that threw tomato soup at the Van Gogh painting along with other disruptive protests that made headlines, "Just Stop Oil", is financed by Aileen Getty, heiress to an oil fortune. Seems like it all might be bad faith to undermine actual environmentalism

— Cultured Swine (@tales_tomorrow) October 15, 2022
While it's still unclear whether the movement is staged or not, we'll definitely hear more about Just Stop Oil's creative ways of protesting since they're determined to take action as long as it needs to make their demands met.
Read the article about Just Stop Oil in Dutch.
Text: Janne Eijckmans and Anna Koliadnaia
Photo: © Extinction Rebellion