Beyond beer and waffles : discover 7 Belgian specialties
Whether you're considering visiting or you just arrived in Belgium, you may have in mind a few words like "Beer", "Waffles" or even "Chocolate" when it comes to expressing what Belgium echoes to you. If you want to know seven of the must-try Belgian specialties are and the stories behind them, we've got you covered.
1- Chocolate… Praline in fact
Belgium is world widely known for its chocolate but the actual Belgian specialty is in reality called praline (pronounce "Prah-Leen") and is completely different from the Praline people make in Louisiana or what French people refer to as when mentioning Praline.
When in Louisiana praline has a fudgy consistency, is made with cream and pecan and French Praline is an almond or peanut coated in cooked sugar and often tinted in pink, Belgian Praline is a stuffing covered in chocolate; it could be a buttercream, a ganache or praliné (basically sugar, almonds and/or hazelnut, vanilla, cocoa and cocoa butter all mixed into a paste).
The word praline was actually invented by Jean Nehaus Jr. in 1912. His grandfather had a pharmacy in the late 19th century in central Brussels where he sold confectionery such as cough sweets and licorice for stomach aches. His grandson carried on the family tradition and came up with his new confectionery that had a soft heart coated in chocolate: the Belgian praline was born.
Today, the house Neuhaus still exists and is the most famous chocolate manufacturer but it has to share its ambassador status of the Belgian praline with other huge manufacturers such as Corné Port Royal, Léonidas or Godiva for instance. There are many other chocolate brands of course , maybe a little less renowned. Go ahead and try them out !
Even though Belgians consume quite often pralines that are pretty "basic", a few high-end chocolate artisans have emerged like Pierre Marcolini or Frédéric Blondeel that are the faces of a new craftmanship with their niche chocolate.
As a matter of fact, whether you're not very adventurous and want to taste what most locals eat or you're a bit more bold and feel like going on a full gustative journey, you will find the right match.
2- Clash of Waffles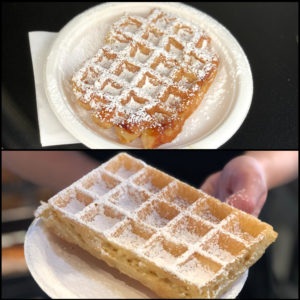 Waffles come in all shapes and forms, they can be sweet and savory (think chicken and waffles) and are consumed pretty much everywhere in the world. Each country has its version, but we have to admit that Belgian waffles are world famous.
In Belgium, we have two main different waffles : Brussels Waffles (Gaufre de Bruxelles) and Liège Waffles (Gaufre de Liège). There is a little quarrel between people from Brussels and Liège trying to respectively claim the birth of the waffle, but the truth is that, even though it's a little bit tough to really draw a full historic on waffles, they were most likely born in Brussels in the 16th century, when they appeared in Liège two centuries later. Legend has it that waffles were made in Brussels during holidays and prayer days as well and that they were created later in Liège.
The word itself, "Waffle" (the French word Gaufre as well) comes from the Old Frankish word walfre meaning honeycomb.
Now that we have situated the birth and that we know about the medieval origin of the word, let's discuss the difference between the two kinds of waffles.
Indeed, those two waffles only have in common that they're delicious, in a different way.
On one hand we have the Brussels waffle that is rectangular and has 20 very well aligned squares, it's light, a little crunchy and the only limit to the toppings that would go on it is definitely your imagination ! Though, locals usually eat theirs topped with just powdered sugar and maybe some whipped cream.
On the other hand, we have the Liège waffle that is way less regular in shape but usually has its 24 required squares and has sugar pearls inside that melt and caramelize a bit. This waffle is way richer, sweeter and is generally eaten plain but you can absolutely top it with anything as well, such as fruits, chocolate and whipped cream.
Now, the only way to decide which one tastes the best is to go test them.
3- French fries.. Or Belgian Frites?
Some will say there is no difference between potato and potato, yet Belgians disagree on their beloved frites being called French fries.
Although it is arguable whether the concept of "fries" was born in Belgium or France, we all will agree that frying potatoes is something that started in the middle of the 19th century, and rumor has it the person behind it was a man called Mr Fritz.
The real difference between "French" fries and Belgian frites is not the shape (even though Belgian fries are usually cut thicker) but IN WHAT they're being fried. Indeed, French fries are fried in oil whereas Belgian frites are fried in fat.
Belgians go get their fries from places called "fritkot" and top them with salt and sauce. You could totally eat them with a tiny fork, but eating them with your fingers is most definitely the way to go.
4- Moules-frites
It's lunchtime and you're wondering what you should be having ? Fries on their own didn't sound like enough to you ? Then, the answer is Moules-frites. That's another dish French and Belgian are fighting over since it's a very popular dish in both Belgium and North of France.
Though we can't really tell where it's from, rumor has it the dish was popularized by a Belgian brasserie in the 19th century.
The "classic" Moules-Frites are called marinière, you can enjoy them at any local brasserie , but most typically in the city centers. Other recipes are very popular as mussels with a creamy sauce , or even curry, if you go to seafood restaurants you will most definitely be offered a large variety of recipes. French obviously have them with a glass of wine , but in Belgium people enjoy their mussels with a fresh cold beer (pils).
Now that you've had them and loved them you can reproduce the dish at home. It's very easy to make, you just throw a chopped celery branch with an onion and some butter in a casserole, when it starts to get a bit brown, pour a glass of water, let it simmer and put the mussels to cook, they're done when they're open. Don't forget the hand cut fries and maybe a beer, now you're good to go.
5- Croquettes aux crevettes/Garnaalkroketten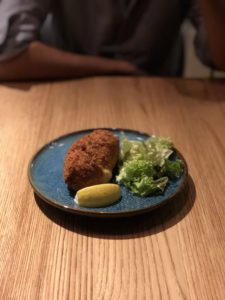 Forget about shrimp tempura, Belgium has shrimp croquettes!
It's basically little grey shrimps from the North Sea in bechamel sauce, rolled in breadcrumbs and fried.
It's THE most popular entrée in Belgium, but if you're not that fond of shrimps, just go for the cheese version , it's as popular and delicious.
6- The Filet Americain
Maybe you're not a seafood fan but more of a meat lover, then the Filet Americain will delight your taste buds.
French People have their famous "Steak Tartare" which is basically raw beef finely chopped with a knife, mixed altogether with Worcestershire sauce, capers, onions and topped with an egg yolk while Belgians have their "Americain"; it's not very clear what's in it as everybody pretty much have their own recipe but its base is ground meat, some will just use beef others will mix it with ground pork. But, no matter the recipe it is either served with fries or as a spread in sandwiches. The "Americain" sandwich is one of the most popular on-the-run lunch in Belgium.
7- Beer
You might feel a bit thirsty after all this food, hang in there, Belgium's got your back with its large variety of beers.
Brewing is a secular tradition, it goes back to the Middle Ages. Nuns and monk were among the first brewers as drinking water wasn't very safe and one could get sick very easily by drinking it back in the days. They first tried making wine but the weather wouldn't allow it that's why they turned to beer. Even kids used to drink beer- it was very low in alcohol back then. Beer is not only a big part in Belgium's culture but it has entered the intangible cultural heritage of UNESCO in 2016.
Nowadays, we count over 3000 breweries in Belgium and over a thousand different beers. Breweries are either part of huge conglomerates such as ABInBev (Biggest brewing holding company in the world) or are independent just like the Brussels Beer Project for instance. Belgian beers have very different tastes and colors, they can blonde or stout, they may be rather light just like Pils (or Lager) or very strong in taste and alcohol, then Duvel would be the most famous brand (The name "Duvel" means Devil ).
Beer can even taste like peach or cherry (the infamous Kriek), but in case the large panel of different beers Belgium has to offer is not enough for you, or you feel a tad adventurous, a few people with a flourishing imagination have come up with a few "recipes" as Mazout which is beer mixed with cola , or Tango, a mixture of beer and grenadine.
Beer is also very important in the student folklore in Belgium, student's organizations have rituals that include beer, for example : Cantus, it is an activity where student basically sing traditional songs and drink beer.
At last, Beer is not only drank, it is also very much used in traditional Belgian cuisine: Carbonades flamandes or even Lapin aux pruneaux et à la Gueuze (Rabbit cooked in beer with prune) are a good example.
Bon Appétit , Smakelijk !
If you enjoyed this article, you may also like : "International student Gilbert from Uganda opens up about homesickness:Do not always lock yourself up in your room" , "International students try Belgian food"or "Meet Hadis Mansouri (19): Thomas More's 10.000th student"
Text & photo: © Zina Mehrez